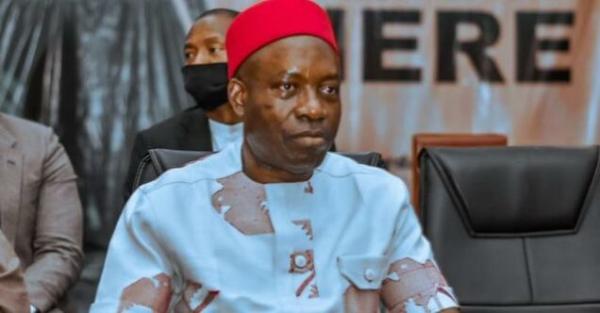 Come home to invest, Soludo begs Anambra businessmen in Lagos
By: Abara Blessing Oluchi
Fri, 23 Jun 2023 || Nigeria,
The Anambra State Governor, Prof. Chukwuma Soludo, has advised Anambra businessmen and women in Lagos State that Anambra is ready for business and investing in the state will be in their best interest.
Soludo appealed to Anambra people to always think home by imbibing the 'homeland consciousness' and to also ensure that part of their taxes are paid to the state, irrespective of where they reside or work.
The governor stated these during a town hall meeting with Anambra residents in Lagos while enumerating some of the progress made so far by his administration after one year in office.
He told his audience to strive to contribute their quota to the development of the state, adding that God did not make a mistake by making them Anambra people.
This is according to a press statement by Soludo's Press Secretary, Christian Aburime, on Friday.
The governor, therefore, enjoined the people to reflect deeply on it and do everything possible to contribute to the growth of the state.
He said, "This is the same question I ask myself every day. And we have a responsibility to leave Anambra State better than we met it.
"The need to change Anambra State from a departure lounge to a destination, the homeland consciousness must be inculcated in the perceptual mind of every Onye-Anambra.
"Your host will never respect you if you don't have a livable and prosperous homeland."
Soludo further assured his audience that his government is determined to resurrect Onitsha by returning it to its former glory as the biggest commercial city in the South East and beyond.
He insisted that his administration has drastically reduced the menace of killings and kidnapping to the barest minimum with the security architecture put in place by his government.
He commended the Army, Navy, Police, the state's vigilante group and other paramilitary agencies for their dogged efforts in contributing to the successes recorded so far.
The governor reassured them that law and order has been greatly restored in the state compared to the impunity that held sway before he came into office.
To boost the power supply in the state, he stated that his government recently signed an MOU with the Enugu Electricity Distribution Company for 24 hours supply of electricity in the state.
He, however, enjoined anyone interested in collaborating with his government to set up Independent Power Plant in the state, is welcome to do so.
He informed the audience that Anambra Investment Summit will be coming up soon in September, urging every business-conscious person to join the rest of the world at the summit.
He added that the summit will be "all about closing deals" and agreements' signing. "Anambra is loading and the options are open."
The event featured key Ndi-Anambra businessmen and women as well as members of the State Executive Council.
Back to News