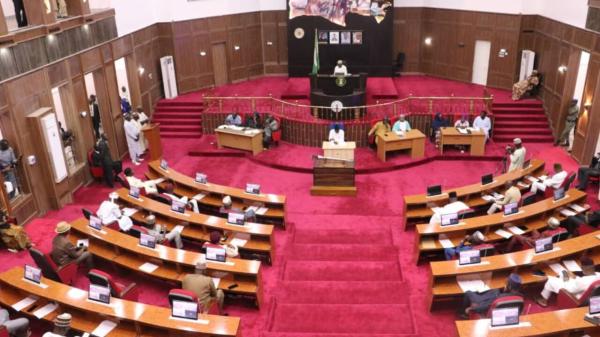 Police seal off Nasarawa assembly over election of two speakers
By: Abara Blessing Oluchi
Thu, 8 Jun 2023 || Nigeria,
The police have sealed off the Nasarawa house of assembly complex following the election of two speakers for the 7th assembly.
Ramhan Nansel, the state police public relations officer (PPRO), said Maiyaki Mohammed-Baba, the commissioner of police, gave the directive after consultation with other security agencies in the state.
He said the action was taken to prevent the breakdown of law and order.
On Tuesday, the members-elect held two parallel proceedings resulting in the election of the different speakers for the assembly.
Ibrahim Abdullahi, the incumbent speaker, and Daniel Ogazi, member representing Kokona east constituency, were elected at the different proceedings.
While Abdullahi was elected at a sitting which took place at the ministry for local government and chieftaincy affairs by 11 out of the 24 members-elect, Ogazi was elected by 13 members at plenary at the state assembly complex.
According to report, the inauguration of the 7th assembly, which was scheduled for Tuesday, was postponed by Ibrahim Musa, acting clerk of the assembly who cited security reasons.
Reacting to the development, Abdullahi said his re-election followed due process and constitutional provisions.
Abdullahi spoke while inspecting the level of damage done to facilities at the assembly complex following the leadership tussle.
"During my swearing in and that of the deputy speaker, Hon. Jacob Kudu, the clerk of the house was seated, the deputy clerk, sergeant-at-arm and his deputy as well as management staff were all present," Abdullahi said.
"But sadly, very sadly, some people went into the hallowed chamber under the leadership of a grade level 8 officer to administer oath of allegiance and oath of office.
"As far as I am concerned, they are not inaugurated and they remain members-elect of the state house of assembly as their inauguration was illegal because it did not follow due process."
He said any inauguration other than the one conducted by the clerk of the house is invalid.
The speaker urged the people to discard any suspension given by the Daniel Ogazi-led camp as invalid "because the group acted unlawfully".
"How can you suspend members that are not part of your inauguration?" Abdullahi asked.
Back to News