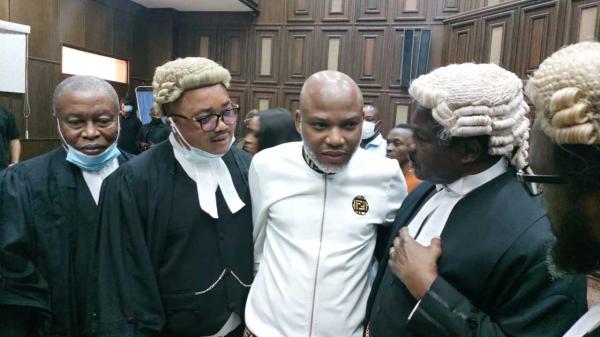 UK appeal court to hear Nnamdi Kanu's case
By: Abara Blessing Oluchi
Thu, 11 May 2023 || Nigeria,
A court of appeal in the UK has granted leave to the family of Nnamdi Kanu, leader of the proscribed Indigenous People of Biafra (IPOB), to challenge a judgment regarding his extraordinary rendition.
Kanu has been in detention since he was brought back from Kenya on June 19, 2021.
Kingsley, Kanu's brother, then filed a suit challenging the UK ministers' handling of the separatist leader's case.
Kingsley had claimed that three foreign secretaries – Liz Truss, Dominic Raab, and James Cleverly – had acted unlawfully by failing to reach a view on whether his brother had been subjected to extraordinary rendition.
He claimed that efforts to gain the release of the IPOB leader, who has been in detention since June 2021, in "appalling conditions, and without access to medical treatment for a heart disease", had been "frustrated by the UK's refusal to take a stand", despite rulings by the UN and a Nigerian court.
Delivering judgment in the case in March, Jonathan Swift, the presiding judge, held that the minister had the right to determine what was in the UK's diplomatic interests.
"While the secretary of state has declined the claimant's request to state an "unequivocal view" either privately or publicly, this does no more than reflect the secretary of state's opinion on how best to conduct his affairs with the Nigerian authorities, to secure the greatest chance of providing practical assistance to Mr Kanu," the judge held.
Kingsley then made an application seeking leave to appeal the lower court's judgment.
In a statement on Wednesday, Aloy Ejimakor, special counsel to Kanu, said a senior British court of appeal judge granted the application on May 8.
"The grounds of appeal raise important issues concerning the scope of the obligations on the respondent in relation to requests for consular assistance in respect of British nationals detained abroad and the proper interpretation and application of the decision of the Court of Appeal in R(Abassi) v Secretary of State for the Foreign and Commonwealth Office [2003] UKHRR 76," the judge was quoted to have said.
"For those reasons, there is a compelling reason for the appeal to be heard, within the meaning of CPR 52.6(1)(b). Permission is granted on all three grounds."
The judge also fixed June 22 for the hearing.
Back to News