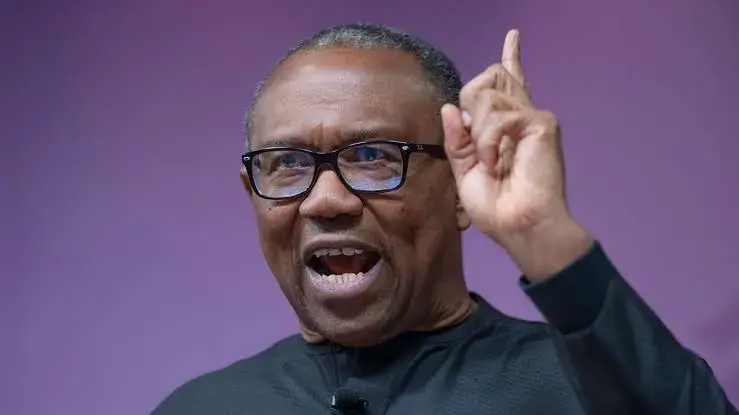 Presidential Election: Peter Obi disagrees with US APC over White House Park protest
From: Agency Report
Fri, 31 Mar 2023 || Nigeria,
The Labour Party, LP, Presidential Candidate, Mr Peter Obi, has disagreed with the United States of America chapter of the All Progressives Congress, APC, over sponsors of a protest against the outcome of the 2023 presidential poll at the Park opposite White House, US.
In a statement by the USA APC Chairman, Professor Tai Balofin, accused Mr. Obi of sponsoring the protest against the victory of President-elect, Asiwaju Bola Tinubu of the APC, who he said won a free and fair election after beating Obi and 16 other opponents.
Mr. Obi, through his campaign spokesman, Dr Yunusa Tanko, distanced himself from the protest, saying he has been at the vanguard of urging his supporters to remain calm while he seeks to reclaim his mandate through due process.
Protests in front of White House
Balofin said: "We wish to inform the public that a group of the Nigerian 2023 Presidential election losers are currently protesting at the park in front of the White House. It is important to note that the US government is not involved or in support of the protest as anybody can get approval for a peaceful protest.
"We also wish to state that this protest was sponsored by Peter Obi, who lost the election in Nigeria. It is our belief that Nigeria's presidential election was free and fair, and Asiwaju Ahmed Bola Tinubu won the election.
"Majority of Nigerian voters gave him their mandate, and no propaganda, manipulation or tissue of lies can stop his inauguration."
Urging Nigerians not to be perturbed by the actions of the protesters, Balofin disclosed: "We have mobilised true Nigerians to come out in support of their mandate, and we believe that the protesters will not succeed in their mission to disrupt the peace and stability of Nigeria.
"We want to assure Nigerians that Nigeria will not secede, and it will remain united. We must work together to salvage it," adding: "The opposition, who lost will meet the winner at the protest ground. We urge all Nigerians to remain calm and peaceful, as we believe that justice will prevail, and the mandate of the Nigerian people will be respected."
Obi has no hand in protest -TANKO
Distancing Obi from the protest, Dr Yunusa told CEOAFRICA on phone: "There is no presidential candidate that has been in full control and admonishing his supporters to be calm than Obi and Datti. The only thing is we are not satisfied with the process that led to the declaration of Tinubu as president-elect.
"We have raised fundamental issues about the process and the process is part of the democratic process. Obi has not sponsored anybody to do anything, rather he has urged them to be calm and follow the rule of law. However, if Nigerian people are protesting the injury done to them, they have the right. Nobody is sponsoring anybody."
Back to News