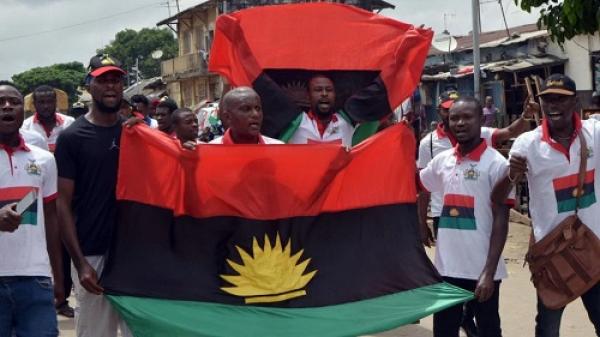 Stop attacks on Igbos in Lagos – IPOB begs Sanwo-Olu, Afenifere, Yoruba Leaders, Gani Adams
By: Cletus Sunday Ilobanafor
Fri, 10 Mar 2023 || Nigeria,
The Indigenous People of Biafra, IPOB has reacted to attacks against Igbos in Lagos state.
IPOB urged Governor Babajide Sanwo-Olu of Lagos State, Yoruba traditional rulers, Afenifere leaders and Gani Adams to stop the attacks on Igbos.
IPOB asked the Yoruba leaders to stop those trying to ignite an ethnic war in Lagos State and the Southwest in general.
The group lamented that there was a plot to pitch Igbos against Yorubas in Lagos and the Southwest.
In a statement, the spokesman of IPOB, Emma Powerful, urged Igbos in Lagos and the Southwest to defend themselves against all forms of ethnic agenda.
The statement reads partly: "IPOB is urging Ndigbo and Biafrans in general resident in the Western region Nigeria particularly in Lagos, to be very vigilant and be prepared and ready to defend themselves and their businesses against thugs and criminals if the Nigerian security apparatus is incapable of or unwilling to protect them.
"That same evil bird that sang in the 60s is singing again. Fulani cabals rigged the 2023 election to set Ndigbo up against the Yorubas. But we are so much wiser now, and we hope that Yoruba people will not fall into the script of the Fulani caliphate. The political thugs and criminals hired to terrorise and burn down properties belonging to Ndigbo should know that they have no monopoly on violence, hence, must be prepared to receive at least as much as they give.
"IPOB is urging the Lagos State Governor, Yoruba Traditional rulers, their opinion moulders, politicians, Afenifere leaders particularly Gani Adams to do all that is necessary to stop these criminals and their sponsors in their track to avoid igniting a fire that will pitch us against each other while the Fulani Caliphate is standing on the sideline laughing at us. These thugs must be compelled to desist from further attacking and bullying Ndigbo that are doing their legitimate business in Lagos.
"Lagos government should know that 2023 is not 1993 and Igbos will defend themselves against these criminals with whatever means is available to them.
"We are making this requests in good faith so that tomorrow none should wake up to tell the story from the middle that Ndigbo are fighting their host community.
"The leaders and elders in Yoruba land should call the criminals terrorising Igbos and their sponsors to order before things degenerate into dangerous and unimaginable dimensions. Igbo leaders and Traditional Rulers should equally speak out to their Yoruba counterparts. Nobody should blame Ndigbo and the youths for defending themselves against ethnic cleansing and impoverishment agenda."
Back to News