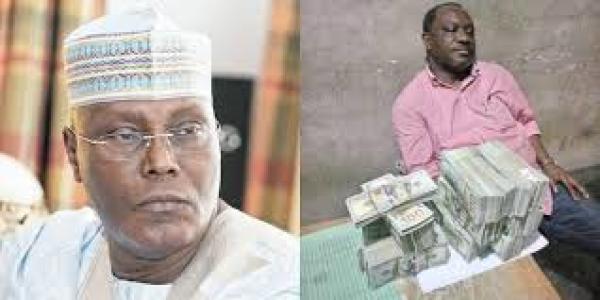 [BREAKING] Saturday Polls: Police arrest PDP Rep member with Atiku's $500,000 largesse in Rivers state.
From: CEOAFRICA
Fri, 24 Feb 2023 || Nigeria,
Just less than 24 hours to the Presidential and National Assembly elections in country, the Police in Rivers State have arrested a House of Representative member representing Port Harcourt Federal Constituency II, Chinyere Igwe, allegedly with $500,000 to trade vote for Atiku in River state.
Spokesperson of the Rivers State Police Command Grace Iringe-Koko confirmed to The ICIR that operatives arrested Igwe Friday morning.
Igwe was alleged to have been arrested with a list of how the money would be shared across all 23 LGAs in the state and for officials of the Independent National Electoral Commission (INEC). The ICIR converted the money allegedly caught with him by the Police at the official exchange rate of N460, giving a value of N230 million.
Igwe is a staunch supporter of the presidential candidate of the Peoples Democratic Party (PDP), Atiku Abubakar.
A former Commissioner for Urban Development in Rivers State, Igwe has a running battle with the Rivers State government headed by Governor Nyesom Wike
the governor who is a estranged PDP member has vowed repeatedly that Rivers State people would not vote for Abubakar the PDP presidential candidate.
Because of the raging feud between Wike and the former Vice President, the PDP could not hold its presidential campaign in the River State.
Meanwhile, the River State government had accused Igwe of involving in oil bunkering and sealed his fuel station for allegedly selling bunkered fuel.
Igwe's arrest came hours after a Chief Magistrate Court in Port Harcourt remanded the lawmaker representing Etche/Omuma Federal Constituency in the House of Representatives, Ephraim Nwuzi, at the Nigerian Correctional Centre in the State.
Back to News