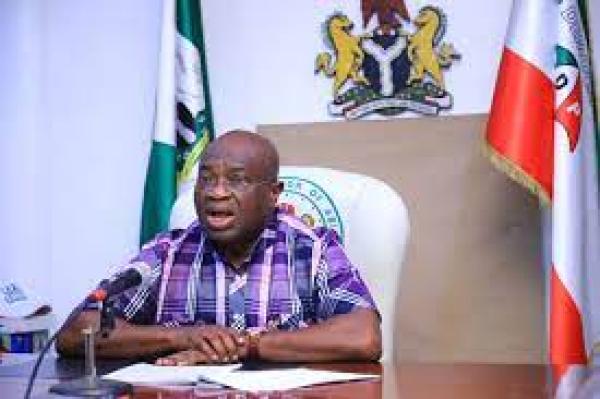 PDP, Labour party presidential candidates still have a long way to go, Tinubu is a strategist -Gov Ikpeazu
From: Agency Report
Thu, 23 Feb 2023 || Nigeria,
As we approach the 2023 presidential election, how do you rate the chances of the candidates?
I wouldn't want to make any predictions now. But, for me, I still believe that the PDP presidential candidate still needs to do one or two things just like I think Obi still has to do one or two things going forward. As for Tinubu, he is a very experienced politician and a very good strategist. If he is in his element, he is going to be very formidable at the end of the day because they never gave him a chance to emerge at the primary, but he emerged somehow. So, that same thing could play out. If I'm in this race, I'll not ignore Tinubu. I will not also ignore any of the candidates. But, I don't want us to make religion or ethnicity a major factor because it will further divide us. We're already broken as a country and we don't need to put another hot knife through our butter.
What should Nigerians go for while choosing their next president?
Sincerely speaking, at times I like to see myself not as a leader or politician, but just as 'citizen Okezie' who is just a Nigerian. I think we the political class have succeeded in confusing the people of Nigeria so much. We're now afraid of change because of the calamity that fell upon us as a result of the change we embraced in 2015.
What's your reaction to the implementation of the re-designed naira notes and fuel scarcity, barely a few days to the election?
It's very unfortunate. For me, I think that Nigeria is ripe somehow for a cashless economy as we see in other countries, but these things are planned. When we were taking IMF loans with other countries in those days, they planned 15 years down the line how the money borrowed from IMF was going to revive companies and all that. For us, we thought some factories around Ikeja will come back alive, but we borrowed for a different reason that we cannot even see the reason we borrowed. So, you must be able to do, at least, 15 to 20 years of projections from what you're borrowing, knowing that, if the impact of the borrowed funds fails to yield the necessary results, then, you have unemployment and debt overhang, which is a double jeopardy. So, for me, I think we need to go cashless, but we need to phase it.
This administration has had seven and half years. I heard somebody say, that this policy is at the centre of this administration's anti-corruption, anti-insecurity; whatever they wanted to do. The person is saying that the policy is at the centre of whatever they want to do and I say why take them seven and half years to realize that this was critical to whatever they want to do? Whenever a leader wakes up and sees his citizens naked in the bank, you see them crying and shouting, it shows that the policy that makes them suffer like that needs to be adjusted.
Have you considered angry citizens going out to vote in a few days?
here are two possibilities for the impact of this on the citizens. The first one will be to demonstrate their anger on the ballot. That's to vote in anger against a system that they don't like. The second one is apathy. In some places, the distance between where you registered and where you reside, is a huge one. If people are expected to vote then it must be made easy for them to perform their civic responsibility. For example, most of the traders at the Ariaria International Market reside around the Ngwa Road axis. They always because of the proximity to their business areas, register in Ariaria and not around Ngwa Road axis where they reside and the distance is like five miles or seven miles. Ngwa Road is in Aba South Local Government Area while Ariaria is in Aba North Local Government Area. Normally when it's time to vote, they just stroll, board a taxi or a bus and go, but today because they don't have cash or there's no POS to give them money, they'll stay back in their houses. So, this will create voter apathy and angry voters we will likely see and the overall impact will be against the government of the day so it'll affect their fortune. Nobody is happy and I don't know why they think they should do this now.
Is the death of Prof. Ikonne not a setback to Abia PDP as the governorship election draws closer?
I must say that it's quite regrettable. That gentleman, Prof Uche Ikonne, who was our candidate then was a visionary gentleman who in our calculation at that time we believed will do a good job by taking Abia to the next level, given the fact that some foundational things have been done and needed somebody that understands the vision that will explode with it. But we lost him and he is no more. That was a setback, to be sincere, because his vision, energy and vigour are no more. But quite curiously, our party is perhaps stronger now than we were even before he died. The reason is that his emergence, just like is seen everywhere when primaries are conducted, created some resentment among people who ran in the primary and felt that they were more qualified than the professor, but could not clinch the ticket. So, what the party did this time with limited 14 days which we already lost three days in some important procedures was to hold a caucus meeting with both those who agree and those who didnt agree. We sat and said let's move to the same Local Government Area where Prof Uche Ikonne hailed from to look for a new candidate.
That decision was like 60 per cent of the job done for us. After the caucus meeting, we decided to speak to other sections of the state. For instance, Abia North with five local government areas was laying claims to having the right to run for the primary. What we did was to get the Isiala-Ngwa North people where the caucus has graciously allowed the new candidate should come to sit in a meeting with the leadership of the party to make it clear that after their turn, the Old Aba Division must have completed their 16 years tenure and that power will return to the Old Bende that has already completed their own 16 years from 1999 to 2015 when Senator Orji Uzor-Kalu and Senator Theodore Orji were governors. If power gets back to Old Bende and they want to do 16 years again, they're free and will always return to the Old Aba Division when they're done.
Suffice it to say that the agreement was that the party will microzone the governorship position to Abia North Senatorial Zone, which is a part of the Old Bende Division when Isiala-Ngwa North LGA in Abia Central, but a part of the Old Aba Division must have concluded their eight years to put the whole thing to 16 at levels with Old Bende. We also held the same meeting with a part of the Old Bende in Abia Central Senatorial Zone. Note that Abia Central Senatorial Zone is an amalgam. It is made up of three local government areas from the Old Aba Division and another three Local Government Areas from the Old Bende Division. So, we held a meeting with those three LGAs from Old Bende in Abia Central and informed them that we had already discussed with their kinsmen from Abia North Senatorial Zone that whenever it's their turn, they will agree on how it'll go. Abia South Senatorial Zone, which is also a part of Old Aba Division, also has six local government areas with two from Ukwa and four from Ngwa. The same meeting was equally held and the six LGAs agreed that whenever power returns to Abia South, the Ukwa people will be in strong contention for it. So, the whole Senatorial Zones and ethnic interests within Abia were accommodated in the power-sharing formation to the extent that we now know the particular area power will go to after many years. So, all of this helped the party to be stronger. So, immediately after our candidate emerged, the reception was like wildfire and all the other candidates are now jittering. Some people are saying why didn't we start with this man and all that, but that's how God wants it. It's our duty to make plans as humans but the confirmation of those plans resides with God who we cannot question. I think the party is stronger.
What about the Labour Party (LP), you see no threat?
Labour Party, on its own, is also a dysfunctional party because its governorship candidate and his deputy are from the same federal constituency. While the governorship candidate is from Arochukwu Local Government Area, his deputy is from Ohafia local government area. So, what are you telling the rest of Abia? If someone lacks a fair sense of equity, it doesn't matter what the person is saying. The person can say he's looking for the most qualified, who told him that it resides in him to determine who's qualified or not? Why does such a person arrogate such power to himself? So, for someone not to know that he needs to spread a little bit means that either he lacks a proper understanding of the political topography of Abia State or the person just doesn't care about equity and spread. I know that his dilemma is that he wants to be in two places at a time. He wants to be in Arochukwu and as well be somewhere in Isiala-Ngwa, him alone.
So, whenever it's convenient, he chooses where to be. Fraudulent people don't thrive in politics for a long time. You're dealing with human beings. You can cheat somebody today, but you can't guarantee you'll cheat the person every day. The best way to deal with people in politics is to be as open and transparent as possible all the time. If you make a mistake, you apologise as a son, but if you continue to postulate and you're not steady and nobody knows what you want to do it'll not help. He also has issues with his political constituency. In how many years, he has been with PDP, APC, APGA and Labour Party in fact all the major political parties. It's either he's desperate or he is just looking for a platform. There's no philosophy, there's no background.
He doesn't have friends from yesterday. All his friends are the ones he believes can enable him at that moment to get what he wants. So, it's even in doubt if he can keep his sense of history because desperation is written all over him. So, for us, it's a dysfunctional party. Yes, there are a few places he may be making a little noise because some aggrieved PDP members joined him. He has strived very hard to attach himself to Peter Obi but incidentally, both of them are so far apart in terms of philosophy and approach. People know Peter Obi as a very conservative, unassuming person who walks into a filling station to buy his own fuel, but this other guy is a bourgeoisie that flies and perches around. He's attaching himself to Peter Obi because it's convenient now, otherwise, Peter Obi even knows that they're not the same.
What is your chance in the Abia South senatorial race as you are running against an experienced senator, Enyinnaya Abaribe?
Luckily for me, I'm running this election on my track record and I challenge all those who are running the same election to show their scorecards. Former Governor Orji Uzor-Kalu has had 25 bills and motions in the Senate in four and half years, former Governor Theodore Orji has had 12 to his name in seven and half years, and the man you're talking about has had only two since 2007; that's for 16 years. You can research and see it. In the first place, if a person has the people's mandate, his intervention, his service, and his stewardship should be obtained from the mandate you were given. The person should not change the mandate. The person should not go to the Nigerian senate and arrogate himself the Public Relations Officer of Ignore people or whatever he calls himself. He was sent there to develop bills, support bills, move motions, and create laws that'll benefit the ordinary person from Abia South because we're traders. We're champions in SMEs.
I give it to him, he has promoted made in Aba in his own way because at times he organizes Trade Fair and all that, but that's not also why he was sent there. He was sent there to craft laws that'll give an enabling environment for the traders and the SMEs to thrive. We expect him to speak to the Federal Government to the point where they'll provide funds, and machinery and also provide a window for SMEs and trading to flourish. He took the job of Igbo PRO when he discovered that he has failed in the other parameters and needed to adjust.
As I speak to you, you can't see a single Federal Government presence in Abia South. The road that leads from Aba to Port Harcourt which is the oxygen valve into the Aba trading community, you can't go there. Before I became governor, the road to Calabar cannot be accessed and someone is still there talking. Custom officers are still coming to Warehouses in Aba to search and impound goods and somebody is there as a senator talking. It takes one month to convey a container from Apapa Wharf to Aba. A trader who borrows money from the bank with interest to pay will have his goods in the Wharf for six months and the interest will keep growing without him making any profit. The dollar would have jumped up and down by then and the man cannot break even. All of these have been happening for 16 years at what point will the change come?
This and more was the reason why I'm currently remodelling Ariaria International Market and you can see what I've done there. I have also opened the channels through which Akwa-Ibom people can come to trade in Aba through Ekwereazu road, dualization of Ururuka Road, through Ukaegbu, Umuola and Ehere Road. Also through the Eziukwu Road that connects to the Cemetery Market, through Osusu Road and Faulks Road leads to Ariaria as well as Ngwa Road that connects to Ahia-Ohuru. For the SMEs, I've sent 30 persons to China for capacity building. I've built a brand-new garment factory and a brand-new shoe factory that produces 5000 shoes including the ones used by NYSC members. So, the quality of shoes and products from Aba has improved. I have also enhanced the return of Geometric Power in Aba which will cover nine local governments in Abia State. I supported them to get the support 50 million dollars from Afreximbank.
Today, power in Aba is about 18 hours and will be made 24 hours very soon. However, it's a better improvement now than where it used to be as we await further improvement. I've promoted the Enyimba Economic City to the point that I'm convinced that even if it didn't happen while I'm governor, I'm sure in the life of the next government that Enyimba Economic City will be a tangible reality. Trying to create a Dubai, a manufacturing platform for the first time that will enable the Igbo man to manufacture and export for the time without going to Lagos, Kano, Abuja or Port Harcourt. These are things I need to follow up with to make sure I get the Federal Government's impetus to deal with them. Because I know the problems and I've plotted a pathway that can create a sustainable solution. I'm not going to the Senate to be the mouthpiece of Ndigbo. I'm going there to be the advocate of the issues that concern my people in Abia South which has to do with all those who do their businesses there, visit there, and reside there notwithstanding where they hail from. I'm going to attract infrastructure, I'm going to intervene in ways that'll affect their lives positively. Our people are still backwards in terms of ICT and I think there's a need for us to have a huge change. It's not going to be difficult for me.
All I need is to push issues to the fore. Judge me with what I've done. If anybody has done better than me in any way, vote for that person. But if not, trust me. Everything I said I'll do as Governor, I may have not been able to do 100 per cent of them, but at least I achieved 80 per cent. These things are clear. In Aba, I've reduced the travelling time between Osisioma Junction and the City centre. Before, it may take about one hour, but now it's less than five minutes to do that on the account of that flyover there. Ariaria is becoming a true International Market now with CCTV everywhere. As we speak now, more works are ongoing on different roads like Faulks Road. Somebody said that a Governor for four years is bigger than a Senator for 20 years and I say that's the worst exhibition of ignorance. These are two different positions with two different roles. Okay, where are the laws that are protecting the interest of Aba traders, where is the advocacy that'll make sure the customs will not do what they're doing in Aba? Is it the governor that'll make these Federal laws? So, this is my way of saying that we cannot justify failure nor are we going to change the goalpost in the middle of the game. We're not going to ask anybody to set his questions in an examination and still answer them. We sent someone for an assignment and we've seen nothing. I can't even name one completed project by NDDC in Abia South. With due respect, he has been Deputy Governor and whatever credit that is accruable to his service years as a public servant, I leave it with him, but going forward, we need somebody that's a little bit more innovative that understands the problems of our people and can address such problems. What if the people say enough of this Igbo advocacy, let's talk about what concerns us. You need to be an Aba man, an Abia South man and an Abia man before you become an Igboman. There's no Igboman that doesn't have a state of origin.
How are South-East governors handling this issue of sit-at-home that is threatening peaceful election in the zone?
It's a very unfortunate thing. Let me start by saying that I don't know about this Simon Ekpa. I understand the philosophy behind what Nnamdi Kanu was saying and he was very reasonable in his argument but what I didn't agree with was his style. He's also available for discussion because if the Federal Government had agreed to talk with him, assured and reassured him of steps that were being taken to ensure that things didn't escalate we probably wouldn't be here. But Ekpa is a total embarrassment. I saw video clips of about five young boys who were shut as they came to burn down a police station in Anambra State. So, we keep destroying our youths, we keep killing them and showing them to a road that leads nowhere. Very soon somebody will say he's supporting Ekpa as Igbo agenda that's not what we need now.
On your question about what the governors are doing, I'm not the chairman of the South-East Governors Form, however, our position initially was to set up Ebubeagu on the one hand and said we're going to engage. What we meant by the engagement at that time was to talk with the Federal Government because they had Nnamdi Kanu in custody. But I think it's also hypocritical for the Federal Government to think that the solution to this problem will come from the state government alone. For me, I've advised my citizens not to listen to Ekpa. We have respect for Nnamdi Kanu even as we agree with his style and we think that if he's engaged properly, we can get something with the IPOB issue. But this Ekpa, I've told everybody not to listen to him at all because he has no point. He's in Finland and I expect that we should use a two-pronged approach. While we try to hold down our citizens down here to ignore him, the Federal Government should engage the diplomatic gear to make sure he's brought home.
The Finnish government cannot be in Nigeria and their ambassador is listening to broadcasts and post on the internet that creates tension, and disaffection, leading to murder and arson and we still maintain such relationships. So, we don't have to wait until it gets too serious. I think that the IGP should engage Interpol and the Minister of Foreign Affairs should engage the Ambassador. If it gets to a point, the leader of the Finnish government should also be called by our president to alert him on this. Nigeria should launch a report to the Finnish government and the international community to officially say that Ekpa is a nuisance who stays in Finland to launch attacks and missiles that are killing our people, destroying businesses and livelihoods and threatening our democracy. We need to escalate this and this is not what the state government alone can do.
Back to News