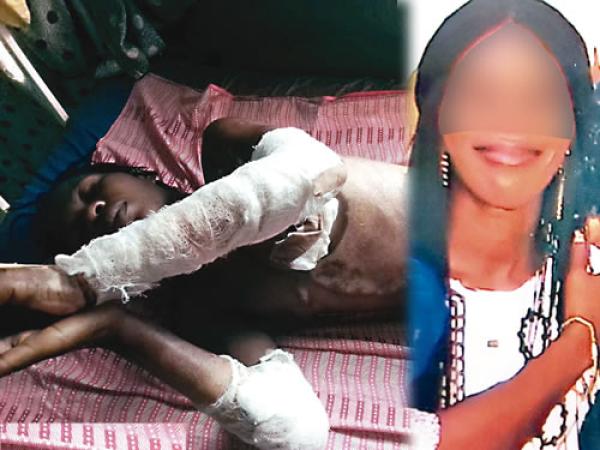 I visited the anger I had for my brother-in-law on my wife —Man who set partner ablaze
From: Agency Report
Tue, 21 Feb 2023 || Nigeria,
A forty-six year-old Hassan Azeez who allegedly set his wife ablaze over a minor disagreement has admitted his error, but said he was pushed to anger because his wife refused to agree with his stance on not bringing family members from both sides to live with them.
Azeez said that it was the news of his brother-in-law being in prison, without a hint from his wife, that made him explode when his breakfast had yet to be made when he asked for it.
The suspect was arrested by the Ogun State Police Command three months after he had gone into hiding after inflicting injuries on his wife, Mrs Yinka Azeez.
Azeez, who was accused of attempted murder, reportedly set his wife on fire on October 22 last year over a minor disagreement.
Reports had it that the wife was busy washing her husband and daughter's clothes when the man, angry that his food had not been prepared, brought his wife's bag out of their room, poured petrol on it and set it ablaze.
The woman, who allegedly kept hundreds of thousands of naira she got as a loan in the bag, unknown to the husband, rushed towards the bag to retrieve the money. However, the husband stopped her in her tracks, doused her with petrol and set her on fire.
Since the occurrence, Azeez fled the country for Cotonou, Republic of Benin for fear of being arrested. However, he gave up hiding and surrendered himself to the police that had declared him wanted.
In an interview with the suspect to know why he committed the act, he said: "My wife and I had an issue. I went to a site early in the morning with some people and asked my wife to prepare my food. Before then, my brother-in-law had a case at the police station and had been charged to court. I was the one who stood as his surety with my house. I thought that was all. I didn't know he got involved in another case that sent him to Ilaro Prison.
"I got to know through a man I met on the way who asked me why my brother-in-law was in the prison again, telling me that he saw him there. I told the man that I heard from my wife that his brother was in Cotonou, Republic of Benin. The man also said that he had a message from my brother-in-law to his sister, my wife. That was how I learnt that he stole something which led to his arrest and subsequent remand.
"I was angry that my wife could keep such a thing from me, as his brother lived with us. When I got home, I asked for my food but she answered that she had yet to cook, and that she only gave our daughter snacks to eat before going to school. She was busy washing my clothes and our daughter's. With anger swelling up in me, I told her I had warned her not to bring any family member to our house but she did not heed the warning, making her brother to cause an embarrassment for me.
"I went to pick her bag from the room, sprinkled petrol on it and set it on fire. Unknown to me, she kept some money she wanted to use for her business in the bag. So she quickly ran there to retrieve it. I think it was when I was sprinkling the petrol tbat it touched her. I just saw that her body caught fire. I quickly rushed to pick a bucket of water to pour on her, after which she was rushed to the hospital.
"I was taking care of her and paid a lot of money in the hospital. I was in a friend's house three streets away from our house, looking for money when I got a call that police were looking for me. From there I fled to Cotonou to hide. I was hoping to get a job to do to gather some money but when I couldn't get one, I decided to return home."
When Nigerian Tribune asked him about the misunderstanding he reportedly had with his wife in the past that led to his using a cutlass on her as alleged by his wife, the suspect denied it.
"The issue started with the problem caused by my brother-in-law. It is true I beat my wife during the disagreement. It was her brother who brought cutlass home. As he was hitting the wall with the cutlass, I was very angry, asking him if he wanted to use it on me. I descended on my wife, beating and telling her that she was the cause of the troubles because she brought her relatives to live with us. I didn't use a cutlass. It may be that she got wounded while elderly people tried to take the cutlass away from her brother."
Pleading for mercy, the suspect said: "I have realised my mistake. I told my wife that I didn't want relatives living with us."
On the properties the wife claimed belong to both of them, Azeez disagreed, saying: "She doesn't own anything with me. The houses I built were by my own sweat."
In a sister publication when the incident occurred, the wife told the Nigerian Tribune: "When this incident occurred, we did not have any issue. He gave me N500 to make breakfast, but our daughter said she didn't want to take any food to school. I went to buy some snacks for her and then went to put dirty clothes outside to wash them.
"My husband called me from inside and asked why I had not warmed the stew we had. I told him that it was because I didn't cook because of our daughter's decision not to take a meal. Also, the cooking gas finished two weeks before that time, and I told him that I would put the stew on the fire after his relative living with us would have finished setting the firewood.
"He started abusing and cursing me. I did not answer him. The next thing was that he threw the pot at me, but I didn't say anything to avoid trouble. He started scattering my things and went inside again to bring my clothes out, setting them on fire. However, I kept money meant for business in one of the packs of clothes, so I moved to save the money from being set ablaze, not knowing that he would target me.
"He started saying 'maa sun e, maa sun e' (I will set you ablaze). As I made to retrieve the money, he sprayed me with petrol in a bottle, picked a burning firewood and threw it on me.
"The fire ignited so fast and I started screaming, using my hands to tear my burning clothes. But the clothes stuck to my body. A neighbour who came to my rescue also had burns on his leg.
"My husband started regretting his action but the deed had been done. He called a nurse to treat me but the burns were much all over my hands, legs, chest and backside. I'm still in much pain in the hospital I was brought to in Ibadan two weeks ago."
Sp Abimbola Oyeyemi, who is the Police Public Relations Officer of Ogun State Police Command where the incident occurred, said that the suspect would be charged to court after completion of investigation.
Back to News