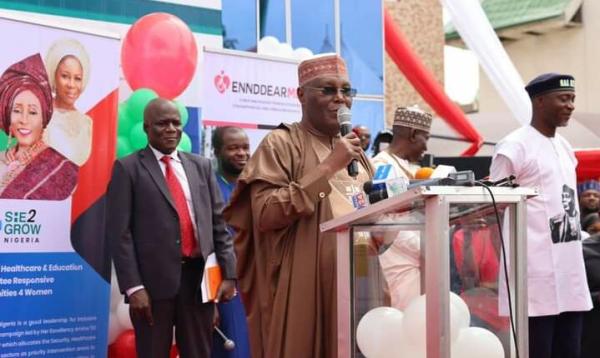 A divided Nigeria cannot achieve purpose of God, says Atiku
By: Cletus Sunday Ilobanafor
Wed, 18 Jan 2023 || Nigeria,
The Presidential candidate of the People's Democratic Party (PDP), Atiku Abubakar has said that a divided Nigeria cannot achieve the purpose of God, rather it will only keep the people in darkness and disunity.
Atiku who was speaking in Jos while gracing the 2023 extra-ordinary General Church Council (GCC) of the Evangelical Church Winning All, ECWA, stated that as a born unifier, he believes in the integration of humanity at all levels and would do everything to promote unity in diversity.
This was contained in a press statement by the media aide to Yakubu Dogara Turaki Hassan said Atiku was made available to newsmen.
He assured Nigerians that they will be very safe under his watch if elected president in next month's election, adding that God did not make any mistake in creating people and allowing them to belong to different tribal, ethnic and religious backgrounds.
"A divided Nigeria cannot achieve the purpose of God for us as a people. A divided country will only keep us in darkness and disunity. All through my life I have lived and worked harmoniously with people of other faiths and ethnic affiliations with ease because of mutual understanding and respect"
"My business and political partners come from different backgrounds with zero expressions of religious or ethnic sentiments. I have never contemplated the same faith ticket throughout my political career.
"The Muslim-Muslim ticket adopted by some people is a recipe for disaster. It is an indication that not everyone will be carried along in government. As Governor-elect of Adamawa in 1999, I gave my full backing to Boni Haruna to take over when I was nominated Vice President against all odds. Boni governed Adamawa for eight interrupted years.
"In Taraba Rev Jolly Nyame was encouraged to contest the Governorship in 1999 just after losing the local government primary elections.
"We have and are working together with many Christians across the nation and the Church should have confidence in my capacity, experience and ability to deliver".
Atiku appreciated Christians all over the nation for their prayers and commitment to the nation and assured them that he will not relent in cementing a cordial relationship between Christians and Muslims all the time.
"The church stands to get alot under my watch as President of this nation if elected. Knowing the significance and importance of unity in peace and development I will do everything possible to sustain and consolidate it.
"Any society that is not united will suffer. We have no reason to divide ourselves for whatever reason. A divided Nigeria cannot take us anywhere. If Nigeria is divided, both Christians and Muslims will suffer. Together with Senator Ifeanyi Okowa as Vice President, we will take Nigeria to greater heights" he added
He commended ECWA for sustaining the annual extraordinary GCC Council meeting where progress and developments are reviewed and new working strategies are adopted and prayed for wisdom and strength for the ECWA leadership to continue to provide good leadership for the church.
Also speaking, Dogara admonished Christians to take stock of what each Presidential candidate has done for Northern Christians and meditate on it.
Quoting copiously from the Bible, Dogara likened Atiku to the popular centurion servant in the Bible, whose faith was acknowledged by Jesus because of his determination to help across divides.
He said they settled for Atiku following a scientific analysis of the various candidates which was carried out openly and presented Atiku as the leading candidate in the contest. "Do not waste your votes by casting them elsewhere. We believe very strongly in coming together and living together.
The Muslim- Muslim ticket is not an option at all. It does not give room for mutual understanding, unity, peace and stability. Atiku has great respect for northern Christians hence his choice of a Christian to deputise for him.
"We know him as a good man who has contributed to building the brethren and the church even as a Muslim. He does not segregate and his experience and abilities speak for him all the time.
"This period of gross darkness hovering over the nation must be overcome. We keep surviving one catastrophe and jumping to the other. Darkness is evidence of the absence of light" Dogara said

Back to News