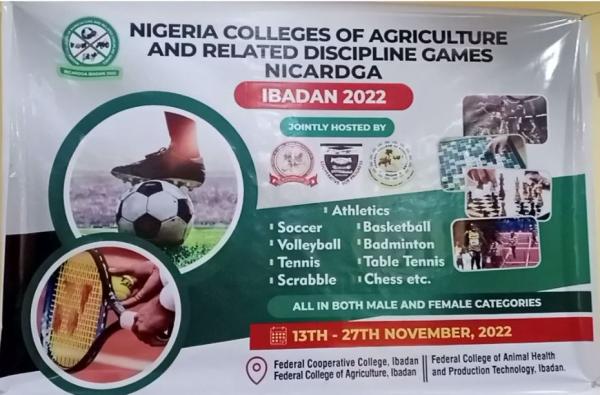 NICARDGA 2022: Ibadan set to witness another economic boom as city hosts colleges in Nigeria
By: Abara Blessing Oluchi
Tue, 1 Nov 2022 || Nigeria,
The ancient city of Ibadan is on her path to witnessing another economic smiles as the 2022 edition of Nigerian Colleges of Agriculture and Related Discipline Games (NICARDGA), tagged 'Ibadan 2022', begins next week.
The sporting event, featuring all track and field events, basketball, volleyball, badminton, tennis, table tennis, soccer, scrabble, chess, among others, will be hosted by Federal Cooperative College (FCC), Federal College of Agriculture (FCA) and Federal College of Animal Health and Production Technology (FCAH&PT).
According to the Chairman, Local Organising Committee of the event, Dr Chidi Okpeze, during the press briefing ahead of the historic occasion, at the FCAH&PT today, Tuesday, November 1, 2022, the event will see over 30 colleges visiting the city, with over 2,000 athletes and their supporters, as well as spectators, who would patronise traders in the city.
Dr Okpeze, who expressed optimism that the event will be an avenue for the discovery of raw talents, as has always been the case, stressed that the President, Federal Republic of Nigeria, Muhammadu Buhari, Minister of Agriculture and Rural Development, Dr Mohammed Mahmud, his counterpart in sports, Mr Sunday Dare, and a host of other dignitaries are expected to be in attendance.
"Such tertiary institution games always lead to the discovery of raw talents. Engr Segun Odegbami and other great sportsmen started this way. It may interest you to know that our own Bamidele, who represented us in badminton few years ago was picked. He took part in national sports festival and won gold. He has represented the country. So this is an avenue to engage youths in laudable venture. It will also reduce vices like cultism, political thuggery (as it is political campaign period) and other things. It will also foster unity, as participants will be coming from all parts of the nation," he said.
Speaking on the welfare and security of the athletes, he said, "This 16th edition of the biennial NICARDGA is supposed to be hosted by Kaduna; but due to security concerns, many people are unwilling to travel to Kaduna; that is why it was brought to Ibadan. We have made all plans for security. We also got vehicles to help convey athletes to the venue. Their accommodation has been taken care of. In addition, we have invited all food vendors, who are good at making different foods peculiar to the various cultural backgrounds. They also agreed to sale at a student-friendly price. Apart from the arrangements we made for their health concerns, we have also got some ambulances."
The sporting event, will take place from 13th to 27th November, 2022; the games will be played at the colleges as well as the popular Liberty Stadium Ibadan; the opening and the closing ceremonies will hold on 16th and 26th November respectively.
Back to News