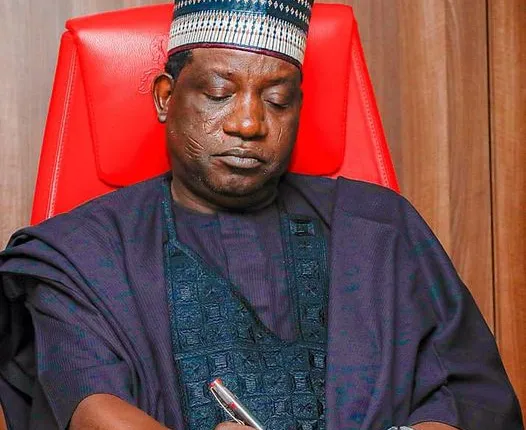 Muslim-Muslim Ticket: Catholic Knights knock Sir Lalong over Pope comment
By: Cletus Sunday Ilobanafor
Fri, 12 Aug 2022 || Nigeria,
The Association of Papal Knights and Medalists in Nigeria (APKMN), feeling betrayed, have come down heavily on one of their own, Sir Simon Lalong, for what they considered a betrayal by his manner of speaking, which the group insinuates would tend to bring the revered image and person of the Holy Father, the Pope, into (your) Local Politics." Writing on behalf of all the Papal Knights and Medalists in Nigeria, the National President of the body, Rt. Honorable Dame Dr. Esther Uduehi chided Lalong for his action which they described as "not only disappointing but condemnable and not expected of a Catholic and more so of a Papal Knight."
According to the APKMN President, "No true Catholic, no matter his/her position in the society will deliberately politicize the revered name of the Pope for the purpose of a position in a localized political matter of any country."
Dame Uduehi went on to counsel Lalong on how very busy the Pope is to be dragged into such trivialities as the Governor would want people to believe. "The Holy father is a busy man and does not interact with individuals so easily as you will want Nigerians to believe", she noted. She therefore challenged the Governor to produce evidence of his claim that he has the mandate of the Holy Father, otherwise he should refute the statement credited to him.
The APKMN President declared that "an ardent Catholic and a Papal honoree at that, ought to know where and when to apply the break in discussing issues of the Church." In concluding her letter, Dame Uduehi assured Lalong that the executives of the body of Knights in Nigeria "will be meeting to take a decision and make recommendations to CBCN and thereafter to the Papal Nuncio" on the matter.
It will be recalled that Governor Lalong, a Catholic and a member of the ruling APC party was recently on Television, claiming that the Holy Father is aware of his appointment as the Director General of the campaign team for the APC Muslim-Muslim Presidential ticket. This came against the background of the loud condemnation, that followed the insensitive move by the APC party, by many well-meaning Nigerians of different faith-beliefs, majority of Christians and numerous Christian bodies in the country.
Back to News