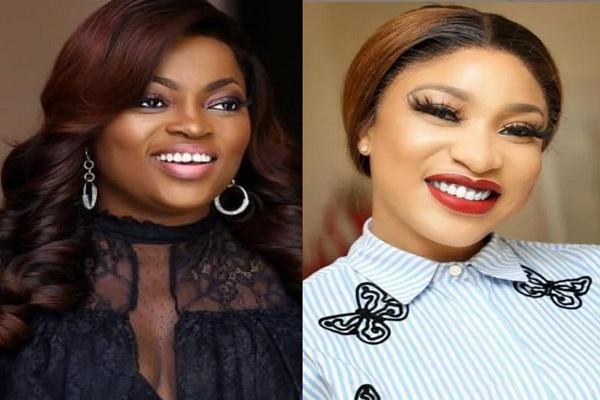 Meet two Nollywood divorcees who are deputy governorship candidates
By: News Editor
Wed, 20 Jul 2022 || Nigeria,
As the 2023 elections are getting nearer, political parties have been perfecting strategies to sway votes to their sides. With the various parties electing their governorship candidates through the primaries, the need to get a suitable deputy becomes paramount.
While many political parties are choosing politicians as their running mates, two political parties decided to choose Nollywood divas as their deputies.
For the 2023 general elections, two top Nollywood actresses who are divorcees – Tonto Dikeh and Funke Akindele were nominated as Deputy Governorship candidates.
Akindele and Dikeh have kept away from brooding as they portray strength and continue to forge ahead in their careers.
Interestingly, they have now added politics to the list of things they have in common as they have already hit the ground running.
Tonto Dikeh
Tonto Dikeh was chosen as the Rivers State Deputy governorship candidate of the African Democratic Congress (ADC).
The state chairman of the ADC, Leader Sampson, said the involvement of the actress who has been a member of the party for a year now would "encourage women", particularly the "younger ones" to go into politics.
Dikeh and Olakunle Churchill got married in August 2015.
The early stage of their marriage was seemingly filled with so much love and romance as the couple seemed unable to take their hands off each other, especially in public.
However, their union hit the rocks in 2017 on the basis of domestic violence allegations from both partners.
When the couple were unable to reconcile their differences and their breakup was growing messier, Tonto's family returned the bride price paid by Churchill.
In 2021, Tonto gave love a shot again with a politician and the chairman of the Anti-Corruption and Integrity Forum, Joseph Egbri, aka Prince Kpokpogri. But the relationship was short-lived.
Kpokpogri was alleged to have cheated on Dikeh and after a lot of back-and-forth altercations on social media, both parties went their separate ways on a very sour note.
Dikeh, according to reports stormed Kpokpogri's house to retrieve a Hilux vehicle she bought for him as a birthday gift.
Tonte Ibraye, Rivers State governorship candidate of the African Democratic Congress (ADC), announced the mum of one as his deputy governor candidate in June.
Reacting to the news, Dikeh in a social media post wrote: "We are looking forward to investing massively in social protection, creating a social value system for young people, increasing the inclusion of women in government, supporting small businesses, and strengthening our traditional institutions to be active players in bringing sustainable development to the good people of Rivers State."
Funke Akindele
Funke Akindele was on July 12, 2022, announced as the Lagos State Deputy governorship candidate of the Peoples Democratic Party (PDP) by the Lagos State chapter of the party.
The multi-award-winning actress and filmmaker in a video on her Instagram page announced that she is the running mate to the PDP governorship candidate in Lagos State, Olajide Adediran known as Jandor.
"I saw it as an opportunity to help liberate and improve the wellbeing of our people, particularly the deprived youth, women and the girl child.
"My decision is not just to accept this huge responsibility but to also work tirelessly and complement Jandor's burning desire to see our dear Lagos live up to its full potentials," she said.
The mum of two is a two-time divorcee.
Her first marriage was to Adeola Kehinde Oloyede on May 26, 2012. The couple, however, divorced in July 2013, citing irreconcilable differences.
In May 2016, Akindele remarried by tying the knot with Nigerian rapper, record and TV producer, Abdulrasheed Bello known professionally as Skillz or JJC Skillz at a private ceremony in London.
Over the years, the couple seemed to be in love as they portrayed on social media via their fancy family portraits, but trouble began months ago when JJC's teenage son, Benito, alleged that the union was not as 'perfect' as it seemed.
According to several other unverified claims by Benito, both husband and wife were cheating on each other.
However, JJC on June 30, 2022, took to social media to state that he had separated from his wife.
In what would have been thought to be a heartbreaking or emotional downtime for the actress, Akindele surprised her fans and followers as she kept quiet about the separation, but went ahead to announce that she is embarking on one of the most important 'assignments' of her life.
She added that she would be campaigning alongside Jandor to become leaders of Lagos, which is the country's commercial nerve centre.
"Jandor has sacrificed a lot, talking about young people passionately for over seven years. He also abandoned his business to make a change in the state. So, I am going to put aside my career now. I am coming out for the women, the youth. We have talents in Nigeria, which need to be nurtured," Akindele said after being announced as PDP's deputy governorship candidate.
Back to News