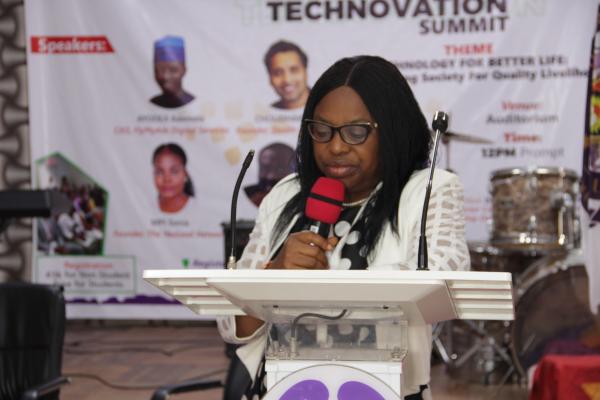 Prof. Chinedum Peace Babalola, the Vice Chancellor, Chrisland University, seaking at the maiden edition of the Technovation Summit
Chrisland University holds maiden edition of TECHNOVATION SUMMIT.
By: News Editor
Fri, 10 Jun 2022 || Nigeria,
It was a memorable and impactful event at Chrisland University as Prof. Chinedum Peace Babalola, the Vice Chancellor, Chrisland University, launched the maiden edition of the Technovation Summit alongside the Centre for Entrepreneurship and Leadership Development Studies of the institution, headed by the Director, Dr. Ayodotun Stephen Ibidunni, themed: "Technology for Better Life: Transforming Society for Quality Livelihood."
The Summit which took place at the Chrisland University Auditorium on Wednesday, 8th June, 2022, had in attendance qualified resource persons - onsite and online - to engage participants who were keen and eager to learn from professionals in various fields of endeavours who have utilized innovative technology in building their brands.
Speaking at the opening of the event, the Chief Host and VC of Chrisland University, Prof Chinedum Peace Babalola, urged all participants to start thinking outside the box in our ever changing world to profer solutions to societal and life's problems, using technological tools and innovations. She emphasized that being technovative does not mean one has to study computer science, but rather being acquainted with the recent trends in technology and employing it in creating something tangible in any endeavour one might find himself.
Speaking with CEOAFRICA in an exclusive interview, she stated: "While I was going through my interview to become the Vice Chancellor of this University, I had to set up my goals and visions for the University and one of the goals was to promote and reward innovation. At some point we increased the number of programmes in Computer Science. So we have Computer Science, Software Engineering, and Cyber Security – all to improve Technovation. I wanted the students as well lecturers to be technologically inclined and innovative and be rewarded for it. So, since Dr. Ibidunni came on board as a lecturer in entrepreneurship, he's been doing a lot to help bring this vision up. Even before he joined us at Chrisland, students had been approaching me to showcase various apps they invented, and I was so excited. I want to see Chrisland students become like some of those students that have developed some finance apps that people talk about. Chrisland University runs entrepreneurship courses from 100 level till final year, and by final year, they go through rigorous courses on entrepreneurship and get certified. At Chrisland University, before a student graduates, he/she gets awarded with at least two certificates. The honorary bachelor degree certificate and a certification in entrepreneurship."
The VC further stated that she wants the University to partner with Robotics Artificial Intelligence Organizations so as to widen the scope of Technovation among the students and lecturers of Chrisland University.
Also speaking with CEOAFRICA is the host of the event, Dr. Ayo­­dotun Stephen Ibidunni, Director, Centre for Entrepreneurship and Leadership Development Studies, he also doubles as the Head of Business Administration Department, Chrisland University. He stated the need to stir up the minds of Chrisland University students so as to meet up with the global trends in technological innovations.
He said: "Principally, we live in a tech age and entrepreneurship has evolved over the years. Interestingly, it will amaze you to know that most of the start-up firms that harnessed the biggest funding globally, came from Africa. Nigeria played a major role in that, with Fintech occupying a large space. So we started to think, this is the way to go, raising entrepreneurs that are technologically oriented. So even if you're going into agriculture, it has to be agro-tech. Education, edu-tech. Just as one of the speakers presented earlier today that everything now is all about tech. So, for us at Chrisland University, being one higher education institution that is particular about promoting the spirit of entrepreneurship in the heart of the youths, especially our students, we decided to come up with this programme as a way of inspiring the hearts of our students to designing or innovating along the technological space. Apart from inspiring them, we also want to stir up their minds to begin to think towards that direction. We have already started, but we believe that we can scale our operations and so we are deliberate about the Technovation Summit, as a way of ensuring that, the culture of technological entrepreneurship abides within Chrisland University. Again, here in Chrisland University, we are bringing in that same model, where students are not going to be examined based on reading and writing, but based on product development and commercialization of those products. It's a sequential procedure and we are patiently following it and ensuring that we are in line with the vision of the management of the University."
Dr. Ibidunni further stated that since he got to Chrisland University, he has put students on their toes in terms of innovating, especially among the 300 level students who are currently innovating along the sustainable development space, where amazing ideas in renewable energy sources have emerged. He also mentioned that some innovations have emerged in the aspect of Social Entrepreneurship where they are looking at reducing poverty rate, provision of education in poor settings and so on.
Reacting to the event, participants expressed their joy at the outcome of the summit by appreciating the management of the University in coming up with this kind of programme which is driven at inspiring young people towards entrepreneurship
Back to News