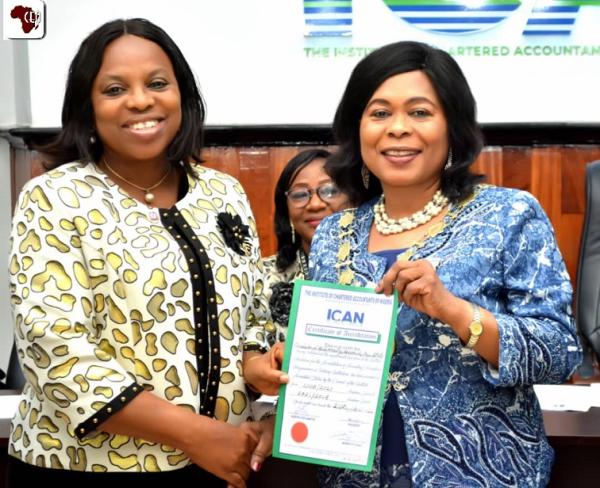 ICAN accreditation spells growth for Chrisland University- VC, Prof Babalola avouched
By: Abara Blessing Oluchi
Sat, 23 Apr 2022 || Nigeria,
The Vice Chancellor of Chrisland University, Prof. Mrs. Chinedum Peace Babalola has avouched that the accreditation of Chrisland University, to run all the programmes of the Institute of Chartered Accountant of Nigeria, ICAN leading to the award of certificate to students as Chartered Accountant spells growth for the University.
The VC said this during the award of certificate of accreditation to not less than one hundred and fifty institutions which cuts across Universities, Polytechnics and tuition centers amongst which was Chrisland University.
Speaking during the Award Ceremony which held at the ICAN Headquarters at Victoria Island in Lagos, 21st April, 2022, Prof. Chinedum Babalola called to mind that just a week ago, Chrisland University commissioned the "effigy of Justitia" in the University which signaled the commencement of the academic Programme for Law in the Institution; and barely a week after, the accreditation certificate to commence ICAN programme is been awarded to the institution.
This spells growth, progress, and advancement, etc. It also goes to show that the University is not stagnant but thriving," she disclosed.
Prior to this accreditation, Chrisland University; based on the vision of the VC, to ensure that the students graduate with minimum of two certificates have tailored her BSc Accounting curriculum to flow with the ICAN curriculum content.
With the accreditation by ICAN now, which is sequel to NUC accreditation of BSc accounting in Chrisland University, the institution is now set to produce young Chartered Accountants.
Consequently, the 57th President of the Institute of Chartered Accountant of Nigeria, ICAN, Mrs. Comfort Olu Eyitayo, MNI, FCA, while speaking on the significance of the certificate of accreditation presented, said "the significance of the certificate of accreditation presented to various institutions is to make sure that the collaborative efforts between ICAN and all the various Institutions that run accounting programmes is strengthened so that the standard required for accounting profession and professionals is maintained.
Tertiary institutions give students the necessary background for grooming before taking professional examinations. The delivery of their services after then goes a long way in determining what happens in the society. This is why after the accreditation; we will still continue to visit them to ascertain their strict adherence to standards".
Mrs. Comfort Eyitayo MNI, FCA, the 57th President of ICAN congratulated Chrisland University and other institutions for earning the certificate of accreditation even though the process was rigorous. She also wishes them a smooth running of ICAN programmes in their various Institutions to prepare the students for Chartered certification by ICAN.
Back to News