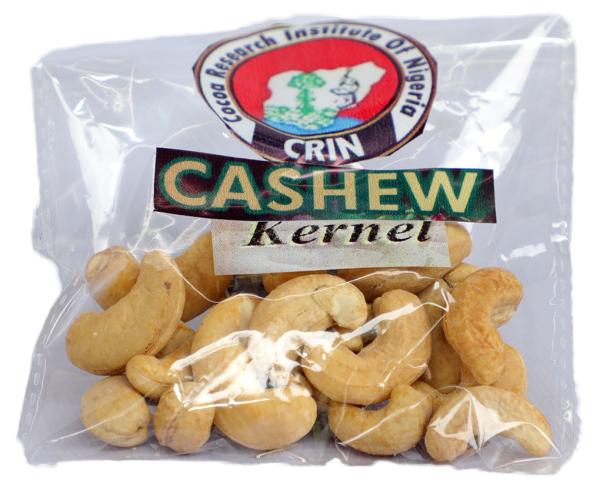 CRIN, NEPC trained Cashew Farmers on best practices along the value chain
By: News Editor
Wed, 13 Apr 2022 || Nigeria,
The Cocoa Research Institute of Nigeria, CRIN and Nigeria Export Promotion Council, NEPC in a training program organized for Cashew farmers in Ogbomosho has brought-to-light best practices in Cashew farming that can help Cashew farmers along the value Chain.
The training which was tagged "Best Practices for Cashew along the Value Chain" was held on 12th April, 2022 in Ago area, Ogbomoso, Oyo State.
According to the Executive Director of the Cocoa Research Institute of Nigeria, CRIN, Dr. Patrick Adebola, "the Workshop was organized in collaboration with the Nigerian Export Promotion Council, NEPC with the intent of updating Cashew Farmers with knowledge to boost Production, improve quality, and provide income for Cashew Farmers and other stakeholders along the value chain in Oyo State.
The overall effect of the workshop is to increase the GDP of Nigeria, and foreign exchange earnings in the sales of Cashew nuts outside the country'', Adebola stated
A total of hundred participants for the workshop were drawn from the National Cashew Association of Nigeria, NCAN, Oyo State branch and they were trained, to train others in order to increase yield and quality of Nigeria Cashew nuts at the International Market.
The multiplier effect of the knowledge obtained will improve income for Cashew farmers and provide Foreign exchange for Government thereby stemming down the country's overdependence on crude oil and help diversify Nigeria economy
The training workshop was also a source of empowerment for teeming Nigerian Youths who are graduates but no white collar job, to establish Cashew farms, process Cashew on their own and become employer of labor and not job seekers".
Dr. Agbeniyi Sunday, Director, Training, CRIN, substantiated these assertions by the Executive director. He said "this training is meant to help Cashew farmers to upgrade their trade so they can access more funds for their trade".
Revd Canon Yemi Akinyinka, the General Manager, Tree Crops Development Unit, Oyo State, speaking on behalf of the Honorable Commissioner, Ministry of Agriculture of Oyo State, Hon. Adeniyi Adebisi, during the one day training workshop stated that Oyo State kind of Cashew as a cash crop, ranks fourth in Nigeria amongst the 27 States cultivating the crop and that the Cashew from the State is the best when it comes to taste and aroma.
Canon Akinyinka further calls for a proactive decisions by Cashew Farmers in Oyo State to be better trained and equipped in order to increase their yield and maximize the many other benefits of the produce.
Addressing Cashew farmers in Oyo State further, he called on them to be wary of grading their Cashew in other States as it affects the rating of Oyo State in terms of ascertaining the metric tons of Cashew produced in the State. He said "the State where you grade your Cashew is the owner of the Cashew"
Mrs. Bolanle Emmanuel, representing NEPC while addressing the Cashew farmers during the workshop asserted that Cashew is a money spinner any day any time and it's a revenue generator for both the Nation and those involved in planting and harvesting it. She then opined that in as much as Cashew generates revenue, Cashew farmers should be rich farmers but the question is that are they really making the money?
If they are not making the Money, then it means they lack up-to-date knowledge about Cashew farming which is why the workshop was set up, in order to update them on best practices along the value chain.
This workshop was designed to introduce them to the various businesses and processes that are involved in planting, harvesting and distribution of Cashew in Nigeria, West African Countries and the world at large, she added.
In an interview session with CEOAFRICA, Dr. O S Ibiremo, who is the Director, Cashew Program, CRIN, and one of the resource persons during the workshop, disclosed that research utilization is the reason for the training workshop for the Cashew Farmers.
As an institute, he said; we are saddled with the responsibility of making research discoveries that can help the economy of our country through maximizing the profitability of cash crops like Cocoa, Cashew, Coffee, tea etc. Once we make new discoveries through research, we take them out; create awareness about them instead of just storing them. This is happened for farmers to be able to utilize the research findings to better their input into their farming endeavors.
This is in line with CRIN vision and mission, with this workshop for Cashew farmers. We did some research prior to this time, we are here now to present our research findings to the Cashew famers so that they will be able to utilize them; and as you can see, they are all excited at the presentations of our research discoveries.
Another resource person, Dr. Famaiye Amos, an agronomist and the Director of farming Systems and Research, CRIN, called on Cashew farmers to reach out to CRIN on the necessary Agro Chemicals that can help them fight against diseases that affect Cashew maximum growth. He asserts that there are so many agrochemicals in the market; some injurious to the growth of Cashew and others very helpful.
A Cashew farmer who therefore does not want to buy adulterated ones should reach out to CRIN for proper advice.
Dr. Mrs Olayinka jaiyeola, Director, Value addition research, CRIN who was also one of the resource persons averred that there are so many other usages to which Cashew can be put in order to generate revenue apart from the sales of the nuts. Cashew is truly a revenue generator, she said. The apple of Cashew can be processed into juice, jam, and butter. The nuts can also be made into kundi (a local meat) which is very nutritious. Cashew farmers were encouraged to delve into all these areas too, to maximize profits.
The State Chairman, National Cashew Association of Nigeria for Oyo State, NCAN, Alhaji Kamarudeen Adewale thanked CRIN and NEPC for organizing the training workshop. He said "prior to this time, no one looked in the direction of Cashew and Cashew farmers when it comes to contributing to the growth of the Nigerian Economy but today, the story has changed and that is why we are now being availed of this kind of training to help upgrade our knowledge and reposition us for more productivity and profitability in our endeavors as Cashew farmers. We therefore thank you but want to request that you help us facilitate funding for our farms and farmers".
Many questions were fielded by the resource persons from CRIN as asked by Cashew farmers both male and female and those questions were well attended to, the satisfaction which the farmers attested to.
Many stakeholders in Cashew farming in Industry were also present to partake in the training.
Some of the Cashew farmers who were present disclosed to CEOAFRICA their views about the one day seminar: Alhaji AbdulKabir Zumair Adigun, who has been a Cashew farmer for so many years having inherited the trade from his father averred that Cashew farming has a very bright future if only Government can really come to their aid in terms of helping to establish a Cashew processing factory where Cashew will be processed as they have deemed it fit to avail them of the training workshop today. This is because "Cashew is a major revenue generator with nothing less than 10000 metric tonnes of graded Cashew being turned out in Oyo State every year"
Alhaji Wasiu Wale Adigun, a Chairman of Association Cashew Farmers in five Local Government in Ogbomoso, in his response about the seminar said "the seminar today is a success story for the Association of Cashew Farmers because it has helped to equip us with the knowledge needed to improve the quality of Cashew that we cultivate in Oyo State but we need money; loans from Government to help us so that we can work better and we also need them in the area of price regulations for the buying and selling of Cashew".
Ijiloye Ijigbemi Ajamu, who has been in the Cashew farming business for 20 years, and also the Vice Chairman of the Association of Cashew farmers in Kamo Alaran in Ogbomoso believes that graduates looking for jobs can conveniently venture into Cashew farming and be self-reliant instead of looking for white collar jobs. He was quick to ask for the help of Government in empowering Cashew farmers. He added, Cashew farming has no retirement time at all.
Maria Adewuyi, who has been into Cashew farming for more than 30 years called on other women to come into Cashew farming as it gives them the opportunity to grow and become self reliant as the case with her.
Resource persons from CRIN were Dr. Famaiye Amos, Director, Farming Systems Research, CRIN; Dr. Ibiremo O S, Director, Cashew Program, CRIN; Dr. Mrs. Jaiyeola C O, Director, Value addition Research, CRIN; Mr. Anthony Agbongiarhuoyi, Head, Extension, CRIN.
The resource persons were led by Dr. Agbeniyi Sunday, who is the Director of training for the Institute (CRIN).
Back to News