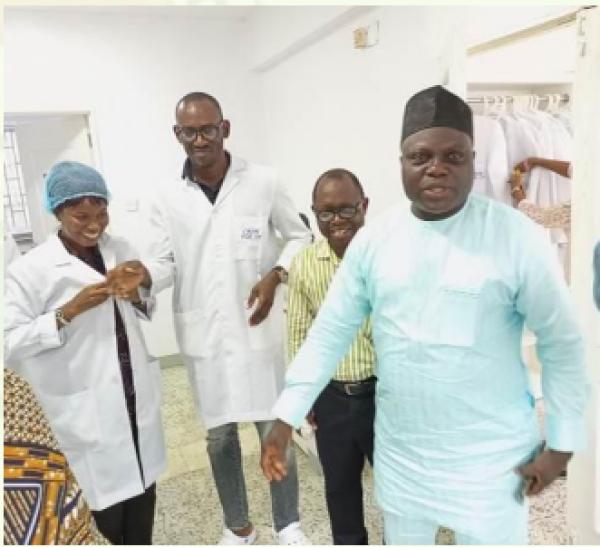 CRIN Staff commends Dr. Patrick Adebola; The Executive Director
By: Abara Blessing Oluchi
Wed, 13 Apr 2022 || Nigeria,
The Staff of Cocoa Research Institute of Nigeria (CRIN), Ibadan has commended their Executive Director, Dr. Patrick Adebola for the good works done so far by him.
The Staff of the Institute affirmed that the birthday of the Executive Director, Dr. Patrick Adebola which was celebrated in February was a celebration of a life well spent so far been confirmed by the teeming population of staff of the Institute whose lives has been touched in so many positive ways by the Executive Director.
Speaking on this to CEOAFRICA, the Staff of CRIN stressed that the Executive Director, within a year at the helm of affairs in the institute has endeared himself to every cadre of staff.
They collectively assert that "His fame; the fame of Dr. Patrick Adebola, the Executive Director has even noised abroad among the host communities. Little wonder the social media platforms of the Institute is awashed with several good will messages in celebration of the man that specializes in bringing smiles to the faces of people, whose sleeping and waking thought always centred on making life bearable for all and sundry".
Thus, the heartfelt prayers of everyone for Dr. Adebola is that God should continually bless him with good health, endow him with more wisdom and keep him alive for a very long time to fulfil all the good purpose of God for his life, the staff said while congratulating him.
Highlighting the score card of the untiring of Dr. Adebola Patrick, the Executive Director of CRIN, with his zero tolerance for waste of resources; shows that a total of nineteen vehicles of the institute has been refurbished.
Following the refurbishment, the largely utility vehicles were mobilized towards easing the mobility of men and materials within and outside the Institute. It was also deployed to easing the transportation of the Institute's mandate crops for processing.
Under the leadership of Dr. Adebola, Inverter batteries were also deployed to offices in order to tackle the endemic power outages occasioned by the epileptic power supply situation to the Institute from the National grid.
The beneficiaries of this gesture among others were; the Soil and Plant Nutrition (SPN) Department and the Information and Communication Technology (ICT) Division.
The enhancement of ease of work in the affected offices and the availability of Internet round the clock in the Institute is indeed heart-warming as a result of the deployment of the inverter batteries.
Back to News