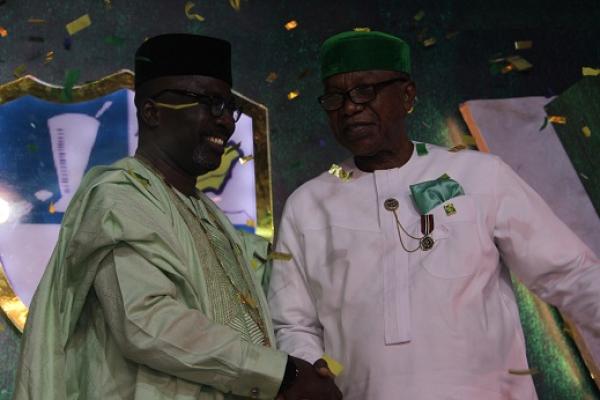 PSN Inducts 112 new members, inaugurates Usifoh as 23rd President
By: Abara Blessing Oluchi
Tue, 8 Mar 2022 || Nigeria,
The Federal Capital Territory was agog on Thursday 10th February, 2022 as the Pharmaceutical Society of Nigeria (PSN) inaugurated its newly-elected president, Pharm., Professor Cyril Odianose Usifoh (FPSN FNAPharm) and the conferment of Fellowship awards on 112 worthy Ambassadors of Pharmacy profession.
The occasion was also a gathering of top echelon in Nigeria health sector, Captains of industries, Executive and Legislative arms of government of Nigeria, Chief Executives of Cooperate and Private organizations, Professional bodies, Royal Fathers, Religious leaders and other eminent Nigerians graced the event at the Congress Hall, Transcorp Hilton Hotel, Abuja.
Speaking at the occasion, the Inauguration Planning Committee Chairperson and MD of Medplus Pharmacy Limited, Pharm., (Mrs.) Joke Bakare (FPSN), in her welcome address advised the recipients of the prestigious awards to uphold the standard of practice and represent the association dutifully in their respective capacities.
In line with this thought, the Chairman of the occasion who is the current Chairman of Access Bank PLC, Pharm., (Dr) Dere Awosika, expressed her pleasure in the calibre of the attendees and strongly reassured the general public that members of the Pharmaceutical Society of Nigeria are capable of any desired development the nation may need in areas of health safety, medicine and its usage. She also asserted to render unflinching support the president, Professor Cyril Odianose Usifoh may need to work effectively.
The keynote speaker, the Vice-chancellor, University of Benin, Prof., Lilian Salami, while congratulating the new president lamented on the degradation of moral values in the society. She describes the social ills in Nigeria as a function of decay in developmental politics and failure of professionals to properly key into their set roles rather than the exaggerated effects of western cultures. She therefore strongly counselled all State actors to be dedicated to the ethics guiding their various professions and fields of discipline.
Speaking further on the lecture titled; "Igniting Our Society; Connecting the Dots." She charged the pharmaceutical body to ensure there is no abuse of substance and expired drugs in circulation; bearing in mind that the sector is saddled with not just the responsibility of drug manufacturing but also medical and general health safety of the entire nation.
As the colourful event moved to its high point, the immediate past president of the association, Pharm., Mazi Sam Ohuabunwa mounted the podium to transfer the leadership mantle to his successor which is the official symbol of authority . He expressed his total confidence in the capability of the new president, saying "I am handing over to Professor Usifoh, and I am not reluctant to do so because, I believe in his capacity to deliver."
In his inaugural address, the new PSN president, Professor Cyril Odianose Usifoh (FPSN FNAPharm), urged all within the rank and file of the professional circle to be united to progress and development in the areas of medicines and health care. He added, ''good listening ability, accountability, professionalism and transparency, are key leadership qualities to achieve the goal and these will be embraced during his tenure. If we want a united and progressive pharma-space, where pharmacists are increasingly relevant and respected for their invaluable contributions, then we need to work as a family."
Also at the occasion was Honourable Minister of State for Health, Dr Adeleke Olorunnimbe Mamora. He urged all the pharmaceutical profession to shun every form of unhealthy rivalry at work and engage actively in research for new methods and relevant medical solutions that align with new technologies. He further added that the professional body will always have the full backing of the Federal government in all their research and noble activities.
Pledging the support of the Hallowed Chamber, the Senate President ably represented by the Senate committee Chairman on health, Distinguished Sen. Ibrahim Yahya, told the leadership of Pharmaceutical Society of Nigeria that the Nigerian Senate shall be there for them in all their quest to move the nation forward.
Speaking also, the former PSN National president, Pharm Ahmed I. Yakasai urged the newly inaugurated president to look inward and imbibe all good leadership qualities, adding that, "selfless service to patients and the masses should be considered above any selfish gain." About the personality of the new president, he said: I have always known him as humble and hardworking people as I have told him to serve well and improve the profession and I am happy that he will continue from where I stop."
The euphoric mood of the tremendous occasion was professionally handled to the end by Joseph Ebirim, popularly known as MC Dr Spyce along with Ben Ubir (Ben 200) and Monica Henben FPSN as they balanced up the atmosphere with soft entertainment and appropriate music.
Dignitaries that graced the event are the Minister for Works and Housing, Mr Babatunde Fashola. Minister for Mines and Steel, Arch Olamilekan Adegbite. The senate committee chairman on health, Distinguished Sen. Ibrahim Yahya. Distinguished Senate President, Ahmed Lawan. Mrs Angela Ndukuba, wife of the primate, Anglican Communion –Most Reverend Dr. Henry Ndukuba. Mr Adesina Adebayo, President, Nigerian Institute of Taxation.Prof Mrs Chinedum Babalola, Vice-chancellor, Chrisland Unversity, Abeokuta. Keynote Speaker, Prof. Lilian Imuentiny Salami, Vice Chancellor of University of Benin. Representative of ICAN President, Hon Nasir Mohammed.Special adviser to Ondo state governor on union matters and special duty, Mr Dare Aragbaye. Ondo state Commissioner for Health, Dr Banji Awolowo.Immediate past president of PSN, Pharm Mazi Ohuabunwa OFR. Hajia Ebune Talatu, Natoional Chairman of ACAPN , Pharm, Wale Oladigbolu, the representative of the new fellows. Past presidents and state chairmen of Pharmaceutical Society of Nigeria and among others.
Speaking with CEOAFRICA crew on the Red Carpet, Pharm., Prof Cyril Usifoh, newly inaugurated PSN President further used the opportunity to thank all Nigerians for coming to honour him in this history making event. He said "First of all, I want to thank the Pharmacists for having the confidence in me and for electing me as their new president and I will work for the best of Nigeria."
"I want to say big congratulation to CY as everybody is behind him. I pray that God will see him through" Professor Chinedum Peace Babalola, Vice Chancellor, Chrisland University, Abeokuta.
"He is one of the middle pillars in Medicine across the globe and that is why we are all here to move Nigeria forward." Hon., Dr. Balabare Shehu Kakale, Memeber of Representatives, Representing Bodinga, Dange Shuni Tureta Federal Constituency. "The first time we are having a sitting serving professor from UNIBEN PHARMACEAUTICAL Chemist and we are investing and the fellowship of the society to 112 worthy ambassadors of Pharmacist." Pharm., Gbenga Falabi, FPSN, National Secretary, PSN.
"He is one of the middle pillars in Medicine across the globe and that is why we are all here to move Nigeria forward." Hon., Dr. Balabare Shehu Kakale, Memeber of Representatives Representing Bodinga, Dange Shuni Tureta Federal Constituency.
"I have a sense of fulfilment that it has come when he has come and I appreciate it." Pharm., Elder Edem I., New Fellow of PSN.
In another remark, Pharm., Omaruaye Ogheneochuko, CEO, New Heights Pharmaceuticals "I am expecting a lot of good things; an excellent of what the occasion stands for, which are reward, contribution and sacrifice to the Pharmacy Profession and we expect that there is different approach in leading the profession from the academic point of view."
"The new president is a humble man, I expect that he will move the country forward through the profession." Pharm., Ejiro Foyibo, FPSN, Past National Chairman, ACPN.
"What happened tonight is very emulating to recognise the people in the profession." Dr. Njideka Onyekwere.
"We welcome them to the system as it is exciting to have new people on board because we believe they are coming in with fresh ideas." Dr. Rametu Momodu, New Fellow of PSN.
"It is recognition by merit by the professional colleagues and we are excited to have them as we expect them to fight for drugs that are not right." Dr Joseph Madu, National Chairman of CPAN.
"We will support them because we need good drugs in the country and permanent vaccine that can cure COVID-19 and we pray for wisdom to save humanity from the mess that we are in." Ven., Samuel Ezewudo.
"It is a full time job and he must know the right people to connect with, who are dedicated and I trust him that he will perform." Dr. Samuel O. Adekola, Past National Chairman, ACPN.
"The new president is a man that I know. He has passion and intelligent that can take the society to the next level." Pharm., Eze Ambrose, National Secretary, ACPN.
"The new president has everything to perform well and all I ask is for him to be humble to bring everybody together." Professor Mbamg Femi Oyewo, Past Chairperson, Board of Fellows.
"We Pharmacists are men of honour and today is a big day and significant to showcase the best as I wish people of Nigeria a good health." Pharm., Joke Bakare, FPSN, Chairperson, Inauguration and Investiture Committee MD of Medplus Pharmacy Limited.
According to the National Chairman, Association of Community Pharmacists of Nigeria, Pharm., Adewale Oladigbolu (FPSN), "the conferment of Fellowship awarding pharmaceutical industry is a rare privilege as it takes over 20 years of problem solving contributions before anyone becomes a fellow. Adewale expressed so much hope that the challenge of open job market which he described as a killer of the people will be overcome during the tenure of president Usifoh.
Back to News