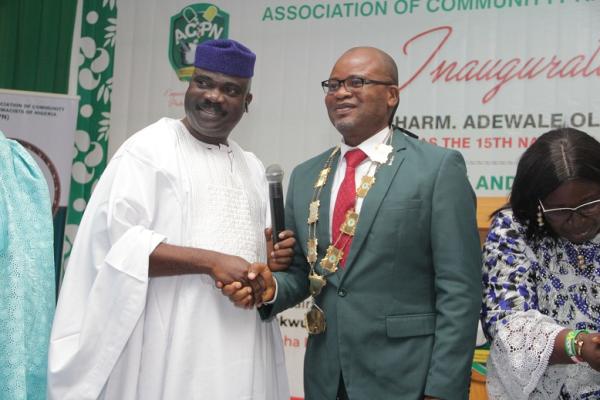 Adekola hands over to new ACPN President, Pharm. Wale Oladigbolu, charges him to build on existing foundation laid by past presidents
From: CEOAFRICA NEWS: Reported by Kelvin Ubaka
Thu, 16 Dec 2021 || Nigeria, Lagos
Thursday 16th December 2021:The popular saying that there is no success without a worthy successor seems to be what was on the mind of the immediate past president of the Association of Community Pharmacist of Nigeria (ACPN), Pharm.(Dr) Samuel Adekola MAW, as records have it that he put everything in place before and during the associations last conference in Abeokuta to ensure that elections go smoothly and produce a worthy candidate to step into his shoes as National chairman. One he had worn for the past 3 years steering the activities of the association.
After the peaceful emergence of the people's choice, and former Chairman of Rivers state ACPN, Pharm. Adewale Oladigbolu, it was therefore necessary for the mantle of leadership in the ACPN to shift from the Immediate National Chairman to the newly elected leader.
History was made on Monday 13th December at the inauguration ceremony and investiture of Distinguished Community Pharmacist (DCPharm) on Awardees held at the Sheraton Hotel and Towers, Ikeja Lagos.
Adekola in his brief but expository remark before handing over said that after the successes, challenges and achievements of the ACPN in the last 3 years, he is proud to finally hand over the baton of leadership to Oladigbolu to take charge for the next 3 years.
He noted that he fought very hard to achieved his laid down goals.
"The office of National Chairman has actually metamorphosized from what it used to be to a full time job, I excitedly can look up today with more thanks, in my heart an unreserved appreciation to my maker and the team that we have ran a good race and fought a good fight by the grace of God we have handed over affairs of the association with a lot of accomplishments and this gathering is one of them.
"I know that you all know and must agree with me that I wasn't opportune to have an inauguration celebration like this when I was coming in but it is part of our vision and I remember a lot of objections that we had then against the inauguration and I am happy for those of you who have made the list of our awardees today."
While stating that whatever has a beginning must have an end, he said "To the glory of God who gave me this grace to serve, I handover on behalf of all past National chairmen of the association, its my pleasure to transmit to you all the powers as the New National Chairman of our Association."
In an exclusive interview with CEOAFRICA, Adekola disclosed that he has not just handed over power but he handed over in grand style stating that it was the first time in the history of the association that it is holding such inauguration.
He advised the new chairman to be humble enough to tap into the records set by him and his colleagues.
Adekola said " I achieved a lot of successes in office which the new officials can tap in, as long as the new chairman is humble enough to tap into some of the grounds we have broken, he has every opportunity to do better than us.
" You all know it's a condition, if he builds on the foundation we have laid, it is the gigantic building that the people will see in a few years and he will get the praises.
"For example when we were struggling and writing offices in the FG to approve Community Pharmacies as Covi-19 vaccine centres, and when I began training pharmacies nobody believed in us, but now you see that when I was leaving office, the federal Government announced the approval with ACPN being mentioned as a partner.
"Nobody knew ACPN before, but we put it on the map for the current chairman to build on it ."
National Chairman, (ACPN), Pharm. Oladigbolu who praised the efforts of Community Pharmacist who bestowed power on him promising that he plans to increase ongoing efforts and put plans to gear towards bettering the lot of the ACPN.
Oladigbolu said "I have to recognise the tremendous efforts of past national chairman as we pick up from where they have stopped. For us we are going to ensure that we drive the advocacy for primary healthcare services in community pharmacy, we will continue to improve on the penetration of pharmacy services into other arears and we continue to use technology to break some of the barriers within the pharmacy space."
Also speaking to CEOAFRICA was the wife of the new National Chairman Mrs Ayoola Oladigbolu who said disclosed that her husband has functioned very well in leadership in many offices adding that his humility has always seen him through and provided results.
She noted that Pharm. Wale Oladigbolu's plan to carry everyone along in the affairs of the ACP which will surely produce fruitful results.
Back to News