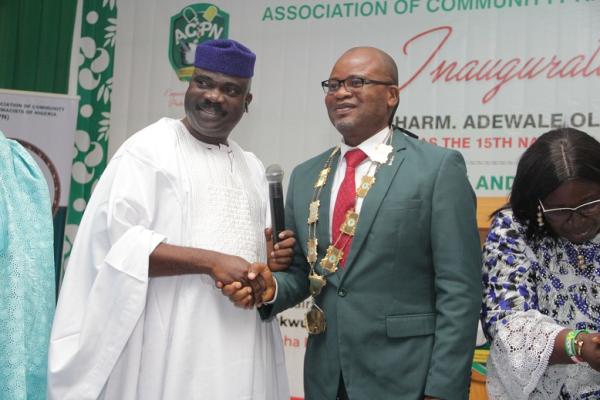 ACPN holds Inauguration ceremony and award night in grand style
From: CEOAFRICA news Reported by Kelvin Ubaka
Thu, 16 Dec 2021 || Nigeria, Lagos
Friday 16th December, 2021: The Association of Community Pharmacists of Nigeria( ACPN) on Monday held the inauguration ceremony of its National Chairman, Pharm. Adewale Oladigbolu (FPSN), and investiture of Distinguished Community Pharmacist (DCPharm) Award.
CEOAFRICA news-crew was live at the event which took place at the Sheraton Hotel and Towers, Ikeja Lagos.
The inauguration themed: Leadership: A Delicate Balance, under the chairmanship of the MD /CEO Alpha Pharma LTD, Pharm. Ikechukwu Onyechi (FPSN) was an event to behold as it brought together the health and pharmaceutical industry bigwigs in Nigeria and beyond.
Chairman of the occasion, Pharm (Sir) Ikechukwu Onyechi FPSN in his opening remark, praised the ACPN election that produced the new National chairman while charging leaders to wake up and take up their responsibilities.
Sir Onyechi said "We are here today to celebrate the national chairman, who has been a sound practitioner for a long time. He was chairman of the Rivers state chapter of our association and he made a lot of remarkable contributions, so we are here to celebrate him today and to give another call for leaders to wake up and take up their responsibilities even more seriously.
"John Maxwell said that leaders are those who know the way, walk the way and show the way. If you know the way, walk your talk and show others the way. You don't just jump out to become a leader to occupy a position or just to have titles.
"As we celebrate him, and his antecedents, we pray for him that God will give him the grace to even do more. If you don't know the way then you have no business coming to lead anybody."
Director General, (NAFDAC) Prof. (Mrs.) Mojisola Adeyeye, in her remark, reiterated the agency's efforts towards ensuring that the Covid-19 vaccines that are imported into the coutry are of top standard and safe enough to be administered to the public.
She said "We ensure that as a regulatory agency we ensure unlike many countries in Africa who just receive vaccines and giveit to their people, we want to show that we have strong regulatory stages and standard in Nigeria.
"We before anything request for the certificate of analysis from this supplying manufacturers, why, because we don't want to take anything lightly. Bear in my that this vaccines have been certified internationally as safe that is why we take them but we don't take them for their words. We still have our own disciplinary staffs to review the dosage. After the dosage is reviewed, and the vaccines come in, we do the next thing. Out of the 15 parameters we may use about 4 or 5 different safety indicating parameters to make sure that the vaccines that are going into the public are safe.
"Dont forget that I said that not all countries infact most countries don't test, they just use, but we don't do that because we strengthening our regulatory focus and very soon we are going to get to the maturity level 3 where Nigeria can manufacture our own locally made vaccines.
"To achieve vaccines for all, we need local manufacturing of vaccine,"
The Keynote speaker , Pharm. Anthony Oyawole FPSN reiterated the contributions of past National chairmen and Excos of the association, stressing that they laid the foundation that is being enjoyed now by the present and incoming official.
He however advised that the National chairman and Exco should build on the foundation laid to ensure success.
"Community Pharmacy did not get to this level where we are being quoted as vaccinators today, the journey started a long time ago and of course some leaders have put in place good structures for success. Few months ago in Abeokuta, we had a training program, so we can now boast that we have at least 300 pharmacist qualified to carry out vaccinations now.
"This is because leadership before took an action to make sure that we are prepared for the future and the future is now beckoning on us to render our services as community pharmacist.
"From experience leaders tells others what to do, they carry them along while they show them how it is done, it is a fine balance and a great act that we constantly have to work towards as we inaugurate our new leaders today, they are being challenged on what to do."
The immediate past National Chairman of the association, Pharm. (Dr.) Samuel Adekola MAW DSA relieved his time as head of the association saying that they fought very hard to achieved his laid down goals.
"The office of National Chairman has actually metamorphosized from what it used to be to a full time job, I excitedly can look up today with more thanks, in my heart an unreserved appreciation to my maker and the team that we have ran a good race and fought a good fight by the grace of God we have handed the affairs of ACPN with a lot of accomplishments and this gathering is one of them.
"I know that you all know and must agree with me that I wasn't opportune to have an inauguration ceremony like this when I was coming in but it is part of our vision and I remember a lot of objections that we had then against the inauguration and I am happy for those of you who have made the list of our awardees today."
The President of the Pharmaceutical Society of Nigeria, Prof Cyril Usifo in his remark called for unity among pharmacists urging them to put religion aside and pray for well being of Pharmacy practices in the nation.
Usifo said "I am calling on us all to pray for pharmacy and I promise you that with God on our side we will definitely overcome, I also want to implore you to know that this administration will do whatever it takes to encourage any member who is interested in politics, we will support their ambitions. We should not be afraid of getting into political office positions, some persons thought that I am being too political, some also said I belong to a cabal but the truth remain that if being a cabal means bringing the best to pharmacy, then I will be a cabal.
"I am not a candidate of any political party, but if it means joining the APC or PDP that will bring the best to pharmacy, then so be it."
National Chairman, (ACPN), Pharm. Oladigbolu who praised the efforts of some Community Pharmacist who have made progress under the hostile economic, political, legal and social system, he however lamented the state of many others who have fallen by the road side of survival in the nation.
He said "We have some Community Pharmacists that have made tremendous progress under this hostile economic, political, legal, and social system but we have thousands of community pharmacy practitioners who are disillusioned and are disturbed by the current system.
"Many young pharmacists have left Nigeria for countries where health is a priority and professional territorialism and health system mediocrity have been abolished, not a few old ones have taken their talent and other profound traits associated with being a pharmacist to other spheres of life.
"To Community pharmacists who are doing well, I offer my support and to those who are disturbed or disillusioned, I offer hope."
While thanking the federal government for granting the application, fight and struggle of community pharmacies to be included as vaccination centres for covid-19, he called on all concerned agencies involved to speed up the implementation for the benefit of Nigerians.
The National Chairman in his message of hope for the association as he receives the baton of authority and running the affairs of the association for the next 3 years said, "My colleagues in the executive and I, will speak to the challenges in several ways and if our imaginations is met with a common purpose, we should overcome.
"There is room to re-order the medical distribution system in Nigeria through technology and advocacy. We will not be satisfied by our actions but by the result of our actions. The Clean Medicines Initiative program will be used as the vehicle to achieve this and we shall have cause to deepen our actions and processes on this in the next few months.
"My dear colleagues, my EXCO and I are united by our dreams to build a strong, resilient and virile community pharmacies for high joint gains of the public and the practitioners; this is the reason you have elected us, this what we focus on, this what we will achieve: distinguished community pharmacy awardees, EXCO, esteemed NEC members, CPs across the length and breadth of our country: the scale of our ambition is high and so is our will, join us and let's make this happen: as men of honour, we join hands."
The National Secretary, ACPN, Pharm. Ezeh Igwekanma in his vote of thanks, felicitated the National Chairman and all the worthy Awardees of the prestigious honour of the association.
He also appreciated the immediate past chairman of association as being the initiative behind the record breaking event which was described by many as the first of its kind.
Igwekanma said " I thank the initiator of the program who is Pharm. (Dr) Adekola and his team, who incidentally I worked with as National treasurer. I also thank all the past National Chairmen who came out to support us tonight from their different locations."
The occasion had in attendance as special guest of honor, Chief Executive Business School Netherland , BSN-Nigeria Prof. Lere Baale FPSN, Executive Chairman Ethiope East, Local Government Delta State, Pharm. (Hon) Victor Ofobrukueta, MD/CEO Reals Group, Pharm. (Pst) Popoola Adesanmi FPSN, MD/CEO Pharmacare ltd, Pharm. Ikechukwu Ugwu.