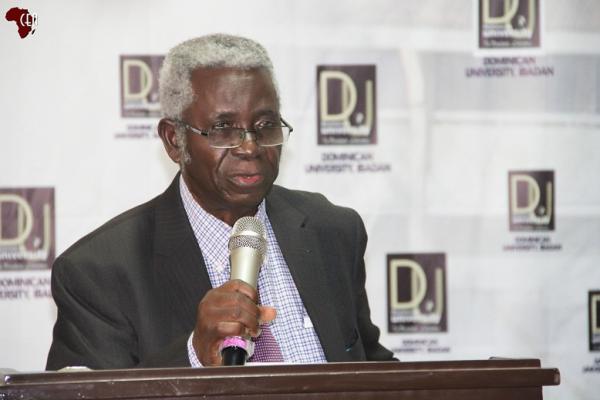 Photo News: Prof of Economics, Ibi Ajayi donates library to Dominican University, Ibadan
By: Abara Blessing Oluchi
Tue, 14 Dec 2021 || Nigeria,
TUESDAY- 14th December, 2021: The board of trustees and management of Dominican University, Ibadan, Oyo State, on Friday received a world class Economics library from the Emeritus Professor of Economics, Sir (Prof.) Ibi Ajayi, KSG.FNES. in a well attended ceremony at the university auditorium , Dominican University, Samanda Ibadan.
A Professor of Economics and a strong supporter of Dominican University since its conception, Professor Ibi Ajayi has handed over the Economics library to the university in bid to position DU as a leading university in Africa..
The Vice chancellor of the university, Rev, Fr. Prof. Anthony A. Akinwale during his speech at the Tom and Carolyn Walker hall of the institution thanked Prof. Ajayi for his generosity to the University.
Prof Akinwale "Indeed Prof Ibi Ajayi's donation of his immensely rich library to the Dominican University is a gesture that clearly surpasses generosity. Prof Ajayi is a well known Economist who distinguished himself by placing his expertise at the service of the University of Ibadan, the World Bank, the International Monetary Fund, and the African Development Bank to mention a few.
The Chancellor, Dominican University, Ibadan, Rev.Fr. Modestus Ngwu in his brief remark, said that Prof. Ibi Ajayi's donaton is a celebration of knowledge.
He said "knowledge is the greatest thing we celebrate today. Today we celebrate the donation of an Economic library by Prof. Ajayi. He has for years been part of the foundation of the University and he has given human resources, his time, gifts and today he is donating his entire library. For us that is something very special."
Also, the ArchBishop Emeritus of the Catholic Archdiocese of Ibadan, His Grace, Emeritus ArchBishop Felix Alaba Job described the donor's guesture as laudable and one that needs to be celebrated.
He said "Prof. Ibi Ajayi has been a pillar to the formation of this University right from the planning stages, and to leave his mark indelibly on the university. The donation of today is a sign of what stuff he has been made of. You are talking of him as an academician but a person is a complicity of body and soul.
In his remark, Prof. Ibi Ajayi said he is making the donation to the society at first and the Catholic Church who have always been part of his history.
He said "when I thought of this donation, I realised that I have been privileged overtime.
"There are many ways of assisting an infant university to grow and develop, but two prominent ones are the development of social capital for it and the development of human capital.
See more photos below: