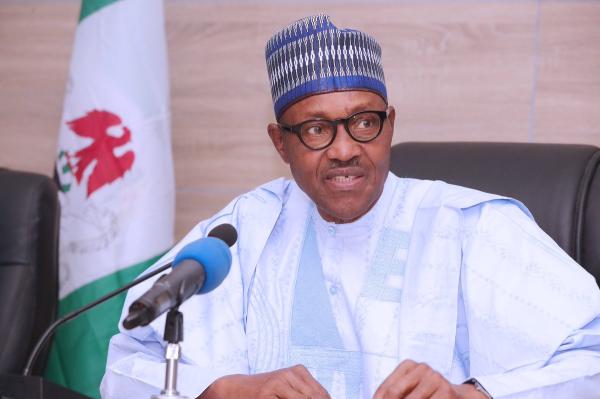 Buhari calls for better partnership among ECOWAS leaders, salutes Akufo-Addo
From: Kelvin Ugo Ubaka
Mon, 13 Dec 2021 || Nigeria, Abuja
Monday 13th December 2021: President Mohammadu Buhari has called for stronger partnerships among ECOWAS leaders to tackle challenges facing the region.
He made the call while speaking on Sunday at the 60th Ordinary Session of the Authority of Heads of State and Government of the Economic Community of West African States.
Special Adviser to the President on Media and Publicity, disclosed this in a statement titled 'President Buhari urges stronger partnership among ECOWAS countries to tackle health, economic, security challenges'.
Buhari said the political, economic, security and the current wave of the pandemic and its new Omicron variant requires collective action.
The statement read, "All of these challenges require our collective action to work in concert with each other to pragmatically address and provide our people better prospects in life.
"Today's realities remind us of the need to continue to forge stronger solidarity to address the new challenges, including the current third wave of the pandemic and its new Omicron variant.
"I am glad that the commission of the Economic Community of West African States and the West Africa Health Organisation are continuing to work with our respective National Disease Control Centres to mitigate the effects of the pandemic on our people and sub-region," he said.
The president who also commended his Ghanaian counterpart, Nana Addo Dankwa Akuffo-Addo, who is also Chair of Authority of ECOWAS Heads of State and Government, for the purposeful leadership and commitment the exerts to resolve the challenges confronting the organization, Buhari said "Despite the enormity of these challenges, our Chair has navigated us well and continues to do so. We owe him enormous gratitude."
Buhari noted that challenges of COVID-19 and the catastrophic consequences hoisted on the socio-economic environment had continued, adding that the regional resilience, determination and resolution of working together, in solidarity with each other, assisted greatly to lessen the burdens of the Pandemic.
"Without doubt, the occasion for which we have gathered here today is a clear demonstration of our resolute commitment to the effective integration of our sub-region."
In his remarks, Ghanaian president, Akufo-Addo said about 10,000 people had died from the Covid-19 pandemic in West Africa, and only two per cent of the population had been fully vaccinated, while 6 per cent got one dose.
He said the emergence of a new variant poses fresh challenges, adding that the sanctions and restrictions on travelling were unjustified.
Back to News