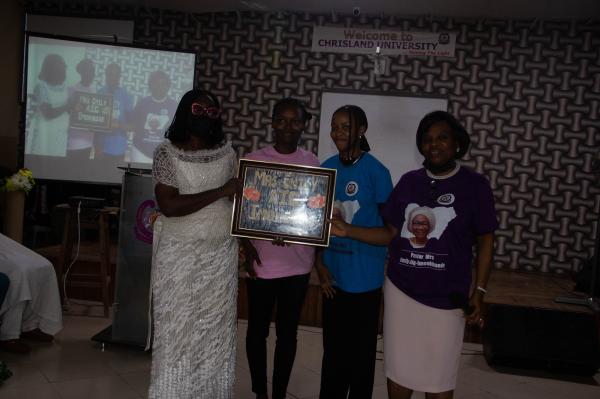 Chrisland University, Abeokuta, honours a philanthrophist, late Pastor Mrs Emily AIG Imokhuede, name hostel after her
From: Kelvin Ugo Ubaka
Thu, 9 Dec 2021 || Nigeria, Ogun
Thursday 9th December 2021: The entire management and Board of trustees of Chrisland University on Wednesday celebrated the memory of one of its own, Late Pastor Mrs Emily AIG Imokhuede, CEOAFRICA reports.
late Pastor Emily Aig Imokhuede
The University, during the celebration of its 3rd Convocation ceremony, set aside a day to celebrate the life and times of the former President of NCWS and curator of National Museum, who until her demise was a member of the university's board of trustees.
The university Vice Chancellor, Prof. Chinedum Babalola, In her speech, described late Emily Imokhude as a wonderful woman and one who served the nation diligently.
She said, "Today we celebrate this wonderful woman, a great Nigerian, and thats why you the map of Nigeria inscribed in our tee-shirt with her face in it. We are celebrating her as a great Nigerian and she will forever be in our heart.
" Not only was she a friend to the Chancellor of our school but she worked in so many sectors in Nigeria, she was at some point a board member of the National University Commission (NUC), I remember when I was undergoing my interview as Vice Chancellor and I saw her and the Chancellor sitting together, so you can imagine her numerous contributions to education.
"It is because of this that the school has decided to name the female hostel after her as it will now be refffered to and called Pastor Mrs Emily AIG Imokhuede hall."

The colourful event was brought to life when the Edo State cultural troupe performed to the delight of everyone present, churning out several traditional dance performances to which High Chief Dr. Winifred Awosika could not help but joins.
The Ogun state traditional dance troupe took the frenzy another step higher delivering several well choreographed dance routines and performances which got many of their seats including the VC, Prof. Mrs Babalola.