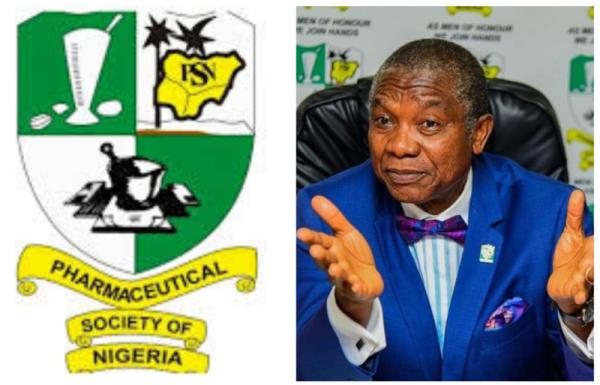 PSN executive council members commend their Immediate past President, Mazi Ohuabunwa
From: Kelvin Ugo Ubaka
Wed, 10 Nov 2021 || Nigeria, Nigeria
WEDNESDAY- 10th November, 2021: Members of executive council of Pharmaceutical Society Nigeria have continued to commend the efforts of the Immediate past President of the society, Pharm. Dr. (Mazi) Sam Ohuabunwa, on the successful completion of his tenure in office.
(Mazi) Sam as he is fondly called by many was elected into the office of President of PSN in 2018 and during his time in office achieved giant strides while piloting the affairs of the society.
The members of the executive council who spoke to CEOAFRICA during the just concluded 94th PSN National Conference in Port Harcourt in November were full of commendations and kudos for a job well done by the immediate past president.
PSN Deputy President (South), Dr. Ejiro Foyibo, commended the comradeship spirit of Ohuabunwa,
"From the beginning when he came in, he told us that everyone was going to function in his or her capacity as National Executive Council member and he kept to that. He has also tried in carrying all Pharmacist along, for the first time, you have pharmacist across the country participating in committees and being briefed on what is going on at the national level.
"He is an individual that is well respected across the nation and that has filtered into the pharmacy profession as Pharmacists are now viewed with respect."
Pharm. Munir Elenu, the Deputy President, PSN. (North), described the immediate past president as a dedicated colleague who delivered a very productive tenure.
"He is focused, he is matured and I commend his leadership style. I give him a 5 star rating because we worked together and we were able to take some steps to put pharmacy in the higher pedestal as health care practitioners in Nigeria," the National Secretary, PSN Pharm. Gbenga Falabi said.
The National President Association of Community Pharmacist of Nigeria (ACPN), Pharm. Dr. Adewale Oladigbolu, commended the efforts of Ohuabunwa towards the Pharmacy bill in the House of Assembly and also the Pharmacy tower under construction describing them and many others as the initiatives of the immediate past president.
"Mazi came in with his own style, every president has a style to approach goals he hopes to achieve, no President comes in and doesn't achieve in specific areas of interest for the profession and I think Mazi has been able to do that. He will be remembered for being able to get us through some very difficult terrain so far." the former PSN President, Pharm. Anthony Akhime noted.
The President, Nigerian Association of Pharmacists and Pharmaceutical Scientists in the Americas (NAPPSA), Dr. Theresa Pounds, noted that Ohuabunwa achieved landmark status for the society, "he is leaving the society in a better situation financially so the revenue and sustainability is confirmed. The pharmacy tower under construction is also another testimony of his works. He took over from former President Yakassai, who also did a very good job."
Speaking on behalf of Young Pharmacists Group of Nigeria, was its Immediate Past President, Pharm. Yimika Oguns who praised the fatherly figure of Ohuabunwa to all young Pharmacists saying that he was always giving listening ears to the plight of the young pharmacists.
"Mazi is a leader and a great inspiration to many young pharmacists, I speak on behalf of several young pharmacists when I say that in the past three years, he has furthered our course a whole lot.
"He is a favourite with young people and many others and working with him has been a very good time for me, apart from the advice that he will give when we go to him with problems, he actually takes proactive steps to help us."
National Chairperson of the PSN (Plateau State), Pharm. (Mrs) Kaneng Pam, described Ohuabunwa as a father to every pharmacist in Nigeria and a very humble individual.
"He has been wonderful and there is a lot to say about him, he has listening ears and is down to earth. The monthly internet broadcast he used to brief and carry every pharmacist along is welcome idea that should be sustained."
Prof. Mbang Femi-Oyewo, the Chairperson Board of Fellows of PSN opined that Ohuabunwa's tenure was a peaceful one with many successes recorded.
" His tenure has been transformational, he was a president that listens and had the interest of segment of pharmacy at heart. All the technical groups, the interest groups, he is one that wants to put things right and move pharmacy professional and the practice of pharmacy to the highest level possible."
The National Financial Secretary of PSN, Pharm. Muritala Isa Umaru while outlining his experiences working with the immediate past president said that Pharm. (Mazi) Ohuabunwa is a known figure in the country, and he has taken the profession in the society to a higher level because many people outside pharmacy identify with him.
He added that alot of influential people in the country now relate with pharmacists and this has helped members to achieve a lot both politically and practice wise.
"He has carried everyone along, even the technical groups and interest groups. The consultant cadre of the pharmacy profession came to past during his tenure. I am very happy because he was always supportive to Association of Lady Pharmacist in Nigeria." The National Chairperson Association of Lady Pharmacists, Pharm. Victoria Ukwu reiterated.
National Chairman PSN (Rivers State), Pharm. Chima Agnellus Ogbu, described Mazi's tenure as very eventful, one that is full of a lot of achievements for the society and the profession, adding that the professional has moved from promiscuity to a point of visibility.
He noted that today policy makers, politicians and the even the Presidency now put pharmacy and pharmacists into consideration during.
Pharm. Umaru Sokoto, PSN(Sokoto State) was of the opinion that Ohuabunwa is an achiever, an hard working individual whose tenure was very fruitful and very rich for the society adding that he defended the society and encouraged a lot of pharmacists.
"He is an icon in pharmacy, for somebody to have been recognised with awards by 3 past presidents of the country then you known that he knows his onions. He is a seasoned leader who doesn't take mediocrity and wants you to be ontop of your game at all times.
He is an asset to the country, I can say this categorically because he is someone I enjoyed working with." The National Internal Auditor (PSN), Pharm. Martins Oyewole added.
Other executive members who commended the efforts of Pharm.(Mazi) Sam Ohuabunwa included; National Chairman, Association of Industrial Pharmacists, Pharm. Kenneth Chinedu, National President, Christian Pharmacists Fellowship of Nigeria, Pharm Maxwell Obeka, External Auditor, PSN, Acct. Festus Demehin, and the National Chairman (PSN)(Akwaibom State), Pharm. Akwaowoh Akpabio, who all gave positive reviews and kudos to the Immediate past president for a job well done during his successful time in office.
Back to News