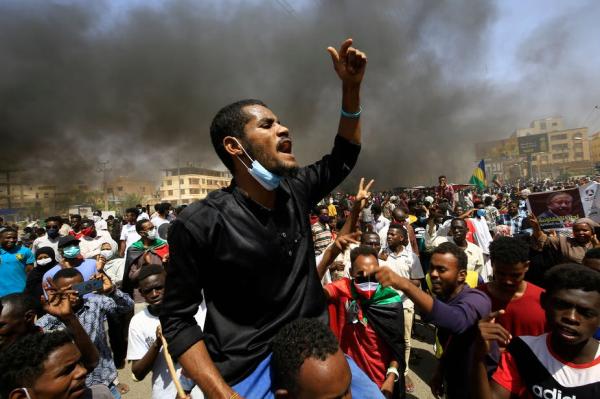 Two die ,80 injured as Sudanese take over streets to protest Military Takeover
From: Agency Report/Compiled by Kelvin Ugo Ubaka
Mon, 25 Oct 2021 || Sudan, Sudan
Monday 25th Oct.2021:Doctors in Sudan say at least two people have been killed in protests against a military takeover of the country and around 80 others wounded.
Shots were fired as large groups of people took to the streets to demonstrate against the coup.
The exact whereabouts of Sudan's prime minister - the top civilian figure in the transitional government - are still unknown.
"We know he was held under house arrest this morning, some accounts suggested he was asked by the military to come in support [of the takeover]," former BBC journalist Mohanad Hashim told Focus on Africa radio.

"He refused and there was a statement from him urging people to take to the streets and protest the revolution, then he was whisked away to an undisclosed location with his wife."
Two of his ministers - the minister for cabinet affairs, and the minister for information - were both "arrested and maltreated, some say badly beaten," Sudan TV journalist Mr Hashim said.
"[In addition] my boss has been arrested and fired from his position - former BBC journalist Lugman Ahmed - and his Two die in protests - reports
Citizens were quick to mobilise when the military overstepped its Events in Sudan as have many hallmarks of a successful coup, yet Africa analyst Alex de Waal argues it's not a "done deal".

"Whenever the military members of the hybrid arrangement we have now, whenever they tried to overstep the mark the street mobilised and pulled them back - and I suspect that is what we are going to see now," he told BBC Newshour.
"All Sudanese were quite capable of seeing the stratagems that generals were playing over the last few weeks," he says, adding that "there is a tremendous resourceful capacity for civic mobilisation in Sudan, which we've seen recurrently since the overthrow of President Bashir in 2019."
De Waal, who is executive director of the World Peace Foundation and a research professor at The Fletcher School at Tufts University, also said Sudan's military were "following the Egypt playbook, using protests and discontent as pretext for a military takeover".
Yet he said, despite the Egyptian president's known sympathy for Sudan's military rulers, it was "quite striking" that the "Arab League has not come out in support of what is happening".
"It's not clear what backing Gen Burhan has for this move

Back to News