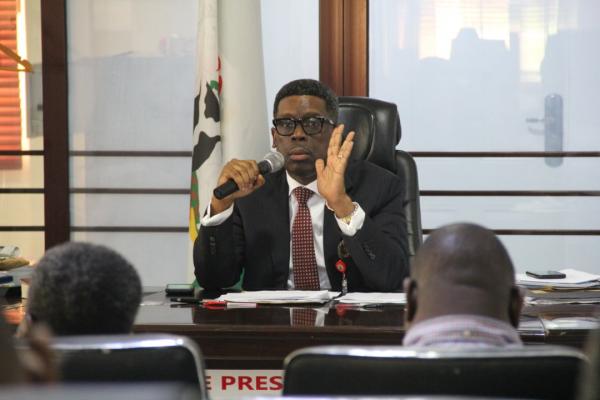 Mr. Lanre Gbajabiamila, Director General of the National Lottery Regulatory Commission (NRLC)
'Nigerian National Game' to be launched soon- Gbajabiamila, Director General NRLC
By: Abara Blessing Oluchi
Sat, 31 Jul 2021 || Nigeria,
Saturday- 31st July, 2021: Mr. Lanre Gbajabiamila, Director General of the National Lottery Regulatory Commission (NRLC), has disclosed that plans by the commission to launch the Nigerian National Game before the end of 2021 is onging.
Gbajabiamila made this known on Wednesday at the just concluded 2-day National Gaming Conference.
The conference which was held at Eko Hotels and Suites Victoria Island Lagos was themed: "Repositioning the Gaming Industry for Better Performance and Enhanced Revenue Generation for Stakeholders In The 21st Century".
Gbajabiamila in his remark stated that with the national game, the commission hopes to promote indigenous games and reduce preference for foreign games among the Nigerian population.
"In line with global practice and the vision to promote the principle of 'for Nigeria, and by Nigeria' and improve good causes fund for national development, the commission has set in motion plans to launch the 'Nigerian National Game' before the end of 2021.
"The launch will further boost the faith of stakeholders and the public in the integrity, transparency and accountability of indigenous games and reduce preference for foreign games," he said.
He added that the commission will conduct national game draws where the populace can participate in the games.
The Director-General noted that NRLC as an independent body arbiter will also conduct the National Game draws for sale and distribution by licensed national operators and broadcast that draws live on National Television weekly, giving the public chances to witness the process.
He stressed that the move to strengthen and grow the Gaming industry that there is need for joint effort with all hand on deck, noting the industry will facilitate better performance for the benefit of the government and all stakeholders.
He said "to reposition the industry for better performance, stakeholders cannot afford to be at cross purpose. Instead, we must all work towards a common cause".
Similarly, the Director General disclosed that the industry in its plans will be orgainsing annual conference, where stakeholders will have a platform for continued dialogue, appraisals of the trends in the industry, and a networking arena for a better lottery and gaming industry in Nigeria.
Back to News