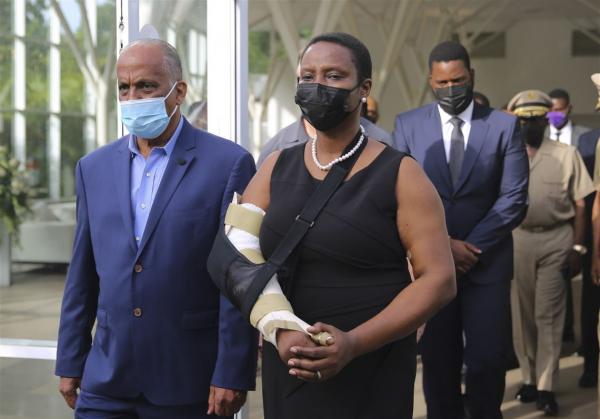 Pictures: First Lady Moïse mourns late president as Haitians demand justice
By: Abara Blessing Oluchi
Fri, 23 Jul 2021 || Haiti, Haiti
Friday- 23rd July, 2021: Haiti's first lady Martine Moïse made her first public appearance since arriving in the northern coastal city of Cap-Haitien during a small private ceremony in memory of her husband and slain President Jovenel Moïse.
She did not make any public comments.
Newly named Prime Minister Ariel Henry offered his condolences along with other government officials.
Authorities are still investigating the July 7 attack on the president's home during which Jovenel Moïse was shot dead and Martine Moïse was seriously wounded, but a lot remains unknown.
"All the world is waiting for an answer from us, because if someone or a commando can go inside a president's house to assassinate him, a foreign commando, I mean, who is safe?" questionned Cirian Jean Louis, a priest who officiated during the private ceremony.
Back to News