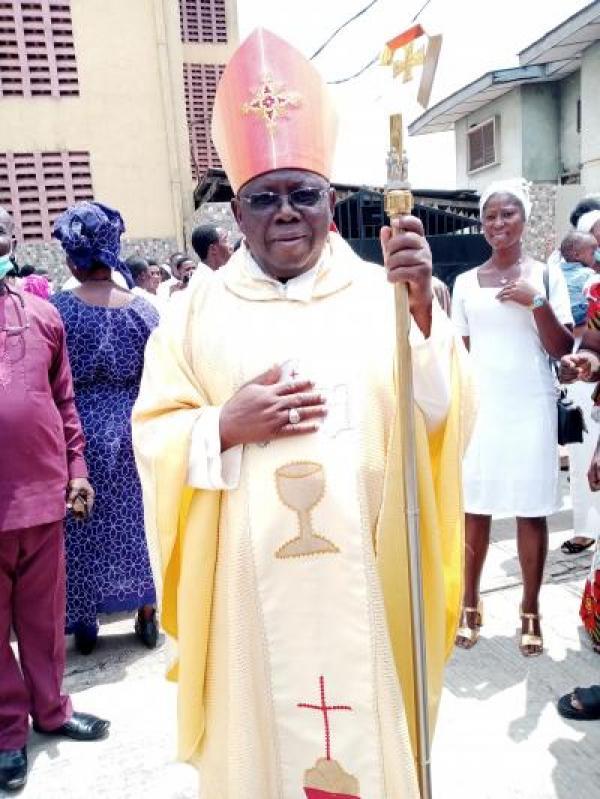 JUNE 12 : Catholic Archbishop condemns use of force on peaceful protesters
From: 'Tunde Babalola
Sun, 13 Jun 2021 || Nigeria, Ibadan
Sunday, 13th June 2021: The Catholic Archbishop of Ibadan, His Grace Most Rev Dr. Leke Abegunrin, on Sunday condemned the use of force against the June 12 peaceful protesters in some parts of the country on Saturday
Most Rev Abegunrin stated this during his visit to St Rita's Catholic Church, Arometa, Ibadan, Oyo State on Sunday 13th June 2021,
The cleric said it is very shameful for government to be using security men to attack peaceful protesters in a democracy.
According to him, "Instead of the security men to be showing up alongside [the people], the government is using them to suppress them, went to squelch the protest, and stamp it out."
He said it is not morally rights for security men been paid with tax payers money to be humiliating and harassing citizens on peaceful protest for good governance in the country.
The cleric noted that every citizen in a Democracy has the right to protest whenever they feel like since they did not do anything to disturb the peace of other citizens.
He asked people of goodwill to call the government to order before this generate further because according to him, you cannot cage people for so long".
It would be recalled that some peaceful protesters were attacked and fed with tear gas canisters in Abuja, Lagos and Ijebu Ode during Saturday June 12 protests for good governance.
Back to News