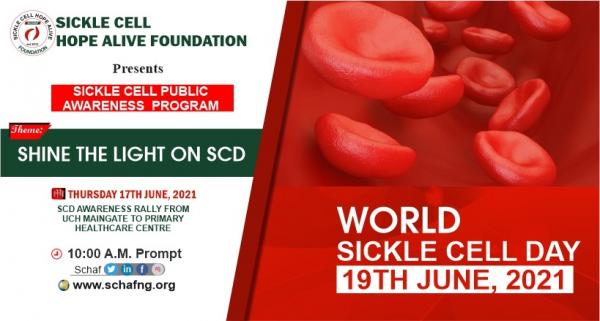 SCHAF expanding frontiers at checking further increase of Sickle Cell Disease
By: News Editor
Fri, 11 Jun 2021 || Nigeria, Ibadan
Friday, 11th June 2021: It is estimated that almost three percent of Nigerian population which is put at about 211 million are currently living with Sickle Cell Disease, (SCD). This indicated that about 6.3 million Nigerians are living with SCD , going by the estimation of the country's population. The Sickle Cell Hope Alive Foundation, (SCHAF) is extending its frontiers for rigorous awareness programmes to ensure that this number is checked and stop from increasing.
With 100,000 babies born with the disease each year, Nigeria has the highest rate of sickle cell disease in the world. One in two babies born with SCD is Nigerian. This is because many Nigerians know nothing or little about the disease, according to a foundation that deal with caring for Sickle Cell Disease patients.
Checking for sickle cell Disease is simple. A genotype test will show whether a person has the carrier gene (AS), and as long as carriers do not partner with each other, no child will be born with sickle cell. And you can check your genotype through a blood test in any medical centre.
When we take a good look at the rate in which the SCD is widely spread in Nigeria, we will realize that the Nigeria government is not doing the best of her abilities to reduce this disease, some of the blame lies with the abject state of healthcare in Nigeria.
Many rural communities don't have access to healthcare facilities, making it difficult for them to learn about genotypes or sickle cell disease. It is explained that situation is worsened by the fact that the government pays little attention to the disease, stating, that there is no clear government policy on Sickle Cell like there is with cancer or HIV.
This revelation becomes alarming when we consider that only 5% of children born with SCD live past the age of 10 in Nigeria.
In 2017, a bill to make genotype testing before marriage compulsory scaled the second reading in the Senate. It was slated for public hearing after the National Assembly's recess last year, but till now there has been no word on it, that shows the kind of attention both the Executive and Legislative arms of the Nigerian government accord to the plight of SCD.
Thanks goodness for an organisation like Sickle Cell Hope Alive Foundation, (SCHAF) that is out to bridge the gap and provide the needed care and prevention for the SCD patients.
SCHAF is a non-governmental non-profit Organization. The Foundation is dedicated to enhance awareness and educate Nigerians on Sickle Cell Disease. It also wishes to bring hope, create happy memories improve the quality of life for individuals who experience life-altering situations caused by Sickle Cell Disease (SCD).
The Foundation is blessed with a multidisciplinary team of Researchers, Medical and community-oriented professionals, all working together to assist in facilitating improved care of those affected with SCD.
SCHAF assists children, young adults and their families through several key programs. In keeping with SCHAF mission, it believes in celebrating life and encouraging those affected by SCD and their families to remain hopeful.
In line with this, SCHAF is embarking on an awareness rally on Thursday, June 17th 2021 ahead of the World Sickle Cell Day scheduled for June 19th 2021.
The awareness rally would take off from the University College Hospital, Ibadan through Total Garden via NTA road to the Primary Healthcare centre in Idi Ogun-gun in Gate area of Ibadan, the Oyo state capital. The take-off time for the awareness rally is 10a.m.
Back to News