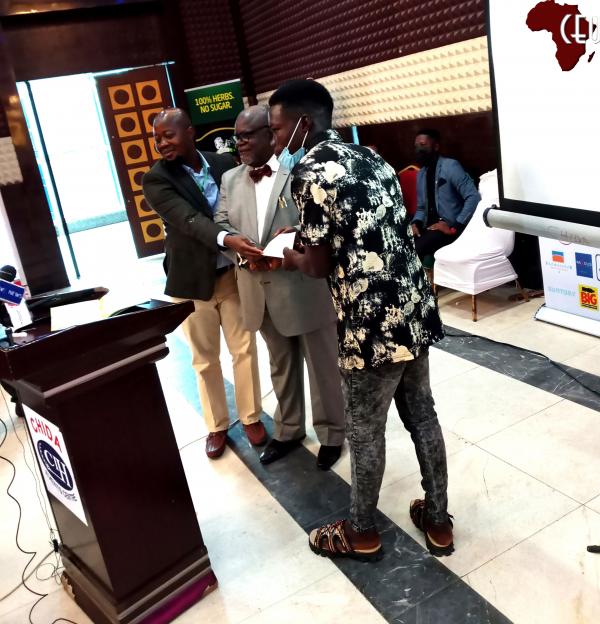 inventor, Rejoice receiving the N1 mllion naira reward from FOBTOB officials during the 14th National Delegates' Conference in Abuja
FOBTOB rewards young inventor, Oghenero Oghenekoke, with N1m for building Drone
From: 'Tunde Babalola
Sat, 5 Jun 2021 || Nigeria, Abuja
Saturday, 5th June 2021: A scientist and inventor once said that "the real challenge is to construct a drone from scratch without using a special kit. This is a complicated project, as you would have to find the necessary pieces and imagine the drone structure yourself,", Mr. Oghenero Rejoice Oghenekoke, a native of Kaima, Kolokuma/Opokuma LGA in Bayelsa State just broke the barrier and threw the challenge to the dustbin as he recently built Drone using locally sourced materials.
And it takes association like the Food, Beverage and Tobacco Senior Staff Association, (FOBTOB), under the able leadership of Comrade Quadri Olaleye to recognize this genius from Ijaw land and showered him with encomium and naira rain.
The young innovator, Rejoice Oghenero, from a poor family is now a millionaire courtesy the out-gone leadership of FOBTOB. Oghenero was presented with a First bank draft of N1million to appreciate him for the efforts of building drone from scratch with locally sourced materials.
Rejoice Oghenero, an SS3 student from Kaiama Community in Bayelsa State had earlier taken his love for aeronautical engineering to the next level when he built mini plane.
According to him, he has built more than 50 aircrafts but only seven survived due to crashes.
He said he used spoilt refrigerators and other metal and plywood to build them, adding that all these inventions were not taught in his school but his personal research.
He has a small shop which he refers to as his 'factory'.
The young innovator, Rejoice Oghenero, reveals that he is from a poor family, that his parents are not rich but he has always had an innovative spirit in him which made him do lots of researches and came up with his first drone in 2013.
He is the second child of a family of 6 and an SS 3 student of a public school, Kaima Grammar School, Bayelsa. He is now a celebrity in his community.
CEOAFRICA commends the Comrade Quadri Olaleye's leadership of FOBTOB for 'fishing out' this inventor and gave him N1m for all these efforts and challenged the Federal Ministry of Science and Technology under the watch of Dr Ogbonnaya Onu to do the needful by encouraging the young inventor and others like him
Back to News