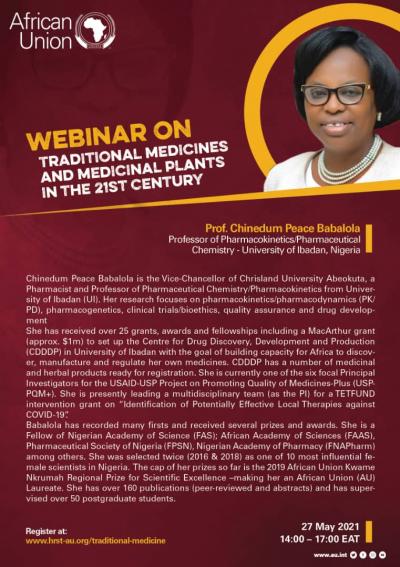 Prof. Babalola to feature as panelist at AUC Webinar on Traditional Medicines, May 27
By:
Wed, 26 May 2021 || Nigeria,
Wednesday, 26 May 2021: The Vice-Chancellor of Chrisland University Abeokuta, Prof. Chinedum Peace Babalola, will be sitting as a panelist at the African Union Commission (AUC) Webinar on Traditional Medicines and Medicinal Plants in the 21st Century.
The Webinar, which was organized by the AUC as part of her efforts to unequivocally promote the systematic uptake and integration of African's abundant traditional knowledge and medicinal plants in its traditional and public health systems and to promote research and innovation, will take place on 27th May by 14:00 – 17:00 East African Time.
Prof. Babalola, whose research focus on Pharmacokinetics/Pharmacodynamics (PK/PD), pharmacogenetics, clinical trials/bioethics, quality assurance and drug development has received over 25 grants, awards and fellowships including a MacArthur grant (approx. $1m) to set up the Centre for Drug Discovery, Development and Production (CDDDP) in University of Ibadan with the goal of building capacity for Africa to discover, manufacture and regulate her own medicines.CDDDP has a number of medicinal and herbal products ready for registration.
Babalola is currently one of the six focal Principal Investigators for the USAID-USP Project on Promoting Quality of Medicines-Plus (USP-PQM ). She is presently leading a multidisciplinary team (as the PI) for a TETFUND intervention grant on "Identification of Potentially Effective Local Therapies against COVID-19."
She has recorded many firsts and received several prizes and awards. She is a Fellow of Nigeria Academy of Science, (FAS); African Academy of Sciences, (FAAS), Pharmaceutical Society of Nigeria, (FPSN), Nigeria Academy of Pharmacy, (FNAPharm) among others. The cap of her prizes so far is the 2019 African Union Kwame Nkrumah Regional Prize for Scientific Excellence –making her an African Union Laureate.
According to AUC, the webinar on Traditional medicine is organized to unlock the potential of the untapped resources in Africa in order for the continent to benefit from its biodiversity and traditional knowledge.
The advent of Corona virus has heightened the need to bring into the public health system, traditional medicines and medicinal plants debates and engagement of experts, policy makers, socio economic actors and private sector.
AUC Commissioner, Dept. of Education, Science, Technology & Innovation, H.E Prof. Sarah Anyang Agbor, will be hosting the event while the Minister of Scientific Research and Innovation of Cameroon, H.E Madeline Tchulnte, will be the Keynote speaker on that day.
Other Panelists for the event are:
Dr. Festus M. Tolo, Chief Research Officer-Center for Traditional Medicine and Drug Research, Kenya Medicinal Research Institute.
Ahmed A Hussein, Professor of organic chemistry in the Department of Chemistry-Cape Peninsula University of Technology South Africa.
Harriet Okatch, Assistant Professor of Public Health, Biology Department and Public Health Program-Franklin and Marshall College, USA.
Prof. Gabriel A Agbor, Director of Research, Head, Center for Research on Medicinal Plants and Traditional Medicine-Institute of Medicinal Research and Medicianl Plants Studies, Cameroon.
Teacher, Rokia Sanogo, Head of DER of Pharmaceutical Sciences-USTTB, Head of Traditional Medicine Department-National Institute for Public Health Research, Mali.
Prof. Abdel Nasser B. Singab, Department of Pharmacogenosy, Faculty of Paharmacy-Ain Shams University, Egypt.
Interested participants can please visit: www.hrst-au.org/traditional-medicine to register for the webinar.
Back to News