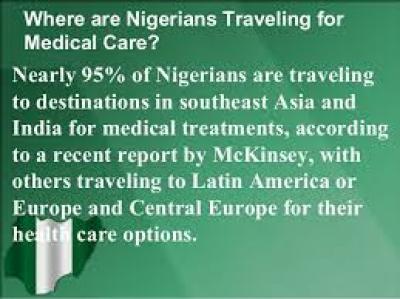 Nigerian leaders embrace medical tourism at expense of sustainable health care system
By:
Wed, 19 May 2021 || Nigeria,
Wednesday, 19 May 2021: Nigerian leaders do not have faith in the country's health care sector because they are aware of the deteriorating condition of most hospitals in the country.
They are fond of taking medical trips to other countries, ignoring the crumbling health care system where they preside.
CEOAFRICA investigation revealed that Nigerian's President, Muhammad Buhari travels more for medical checkups than his visits other African leaders which may benefit the nation.
We gathered that the country is losing more than $1 billion annually to medical tourism as tens of thousands of Nigerians travel abroad in search of the world class and best treatment for their medical needs.
Nigerians who could not afford medical trips have to depend on poorly funded health care facilities amidst strike action by health personnel.
It saddens that many Nigerians are dead as a result of this and many are living with critical health conditions because they cannot afford to travel out to get effective treatment.
CEOAFRICA checks revealed that twenty years ago, to be specific on April 27 2001, heads of states and governments for African Union countries came together at a summit to address the challenges posed by HIV/AIDS, tuberculosis, malaria, and other diseases plaguing the region and made several commitments — including Nigeria's 15% budget pledge. All these were made to bolster resources and improve health care across Africa. Many years after, Nigeria, the giant of Africa remains far from reaching the goal and ranks at the bottom of global health surveys.
As of 2018, the expenditure on health in Nigeria equaled 3.89 per cent of the country's GDP.
The Covid-19 pandemic opened up various loopholes in the health sector; as ventilators and other crucial facilities are not available even in federal hospitals.
Amid the ongoing COVID-19 pandemic, the country's allocation to health for the 2021 fiscal year is 4.5%.
The budget for 2021 proposes N547 billion for healthcare, about seven per cent of the budget's total of N13.08 trillion.
The amount comprises N380.21 billion for recurrent expenditure and N132 billion for capital projects. There is also N35.03 billion Basic Health Provision Fund, which includes funds for managing emergencies and infectious diseases such as the COVID-19.
On average, the amount translates to about N2, 735 per Nigerian, given the country's population of about 200 million people.
The budget covers the salaries of health workers and logistics involved in the day to day running of the health ministry and tertiary health facilities.
It also covers funds for the purchase of personal protective equipment for health workers fighting COVID-19, interventions against diseases such as Malaria, Tuberculosis, Meningitis, HIV/AIDS.
There are also construction and rehabilitation of primary health facilities, purchase and maintenance of cancer machines, and a pool of funds for health insurance packages.

Nigerian leaders enjoy good healthcare during their various medical trips but they have failed to replicate such in their country. Observers are quick to ask: 'who bewitch Nigeria?'.
This is a call to the Nigerian government to channel more fund into the health care sector to ensure the wellbeing of every citizen of Nigeria, doing this will also put an end to the $1billion annual loss made onmedical tourism.
Back to News