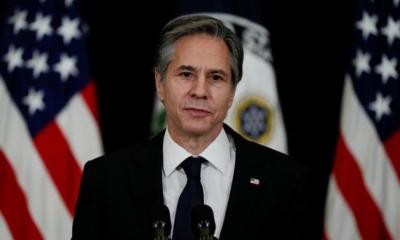 AU sponsored talks on GERD must resume urgently
By:
Sun, 16 May 2021 || Egypt,
CAIRO -Sunday 16 May 2021: The US Department of State on Friday said the negotiations on the Grand Ethiopian Renaissance Dam (GERD) conducted under the auspices of the African Union (AU) "must resume urgently".
A statement by the state department said it also believed that the 2015 Declaration of Principles signed by each of the three concerned countries and the July 2020 statement by the AU Bureau are important foundations for these negotiations.
This comes after US Special Envoy for the Horn of Africa Jeffrey Feltman concluded his recent tour to the four countries of Ethiopia, Egypt, Sudan and Eritrea.
The US Department of State said Feltman discussed with leaders in Addis Ababa, Cairo, and Khartoum, Egypt and Sudan's concerns over water security and the safety and operation of the dam.
The state department said these concerns can be reconciled with Ethiopia's development needs through substantive and results-oriented negotiations among the parties under the leadership of the African Union, which must resume urgently.
"The United States is committed to providing political and technical support to facilitate a successful outcome" to these negotiations, the statement added.
The state department reiterated its commitment to work with international partners to facilitate resolution of regional flash points, including GERD, and conflict on Sudan's borders—so they do not undermine the fragile progress made since the Sudanese revolution.
The state department said Feltman will return to the region in short order to continue an intensive diplomatic effort on behalf of President Joe Biden and Secretary Antony Blinken.
Back to News