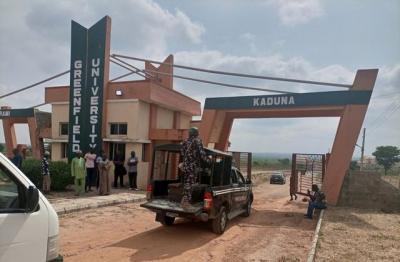 Nigerians lambast president Buhari, VP over abducted Greenfield University students
By:
Tue, 4 May 2021 || Nigeria,
Nigerians on twitter have again lambasted President Buhari following the threats by the bandit's leader on Monday over the remaining students of Greenfield University.
CEOAFRICA had earlier reported that the leader of the terrorist gang who kidnapped the students Sani Jalingo, said the remaining students will be killed if the Kaduna State Government or the students' family fail to pay a ransom by Tuesday (today).
Jalingo who spoke to the Hausa Service of the Voice of America demanded a ransom of N100 million and ten motorcycles.
The terrorist insisted that if the money (N100m) and the items (motorcycles) demanded were not provided on Tuesday, trucks would be used to evacuate the lifeless bodies of the remaining students.
He also disclosed that the families of the 17 remaining students had so far paid N55 million to them.
Reacting to the threat, some Nigerians slammed expressed their anger that even the president has not said anything and his VP was busy chasing Microsoft.
See Cooments below:
@ayemojubar
Bandits threatened to kill abducted #GreenfieldUniversity students today, yet not a word from your president while his VP also was busy chasing Microsoft.
@aproko_doctor
We created this monster currently, paying kidnappers and pampering repentant terrorists. Now some students of #Greenfielduniversity may pay for the government';s inability to protect them with their lives.
This is no longer acceptable, it';s becoming a norm and has to stop
@TosinOlugbenga
17 kidnapped students of #Greenfielduniversity might face death TODAY.
Their lives, dreams cut short simply cos we've a govt that does a lot of talking without any action.
The Governor of that state was Tweeting motivations on Saturday.
Buhari is a failure!
@theonly1acre
They did no harm.
They hurt nobody.
They deserve their freedom, Western Education can never be Haram. The FG must intervene to rescue #Greenfielduniversity students ASAP.
@Saintbaba70
We play too much in this country ,our brothers and sisters are in the custody of blood thirsty kidnappers who have threatened to kill them today and some twitter elites are trending Bill Gates and Melinda.The DSS and Armed forces should be trending by now !  #Greenfielduniversity
@extralargemediu
Those of you morons shouting #OneNigeria, ask yourself this simple question: "if they kidnap me today, is this how the Federal Government will handle my case?" People get kidnapped in other countries but here, the rescue/survival rate is very very very low #Greenfielduniversity
@pengmanmodel
This government is gambling with the lives of its innocent citizens.
In a saner climate, there would have already been multiple attempts to save the kidnapped students of  #Greenfielduniversity
But this government does not give a shit until it affects them directly!
Back to News