Nigeria :: News
African Pride: Celebrating the life and time of Thomas Sankara
Apr 12, 2021
Source: CEOAfrica News: Reported by- Abraham Adzashoja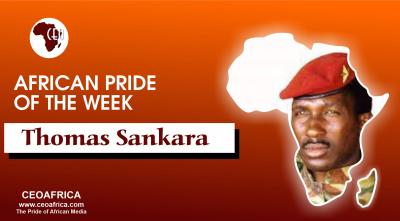 A bird who forgets its nest will fly without perching, but one who knows its house will be considered honourable. Thomas Sankara was one of such men that knew his roots and as such is more than worthy of honour. Sankara was, no doubt, a man that went far in life, and never forgot the he was like the majority of people while he was growing up. CEOAFRICA today takes a look at the life of this man whom many have described as a just man.
Thomas Isidore Noël Sankara was born on the 21st December 1949 in Upper Volta, a French colony at the time. Though his parents wanted him to become a priest, he found more fulfilments in the military. So he enrolled into the military academy at the early age of 17 in the neighbouring town of Ouagadougou. At the age of 20 he was sent for officer training in Madagascar where his life was transformed by the happenings he witnessed. He saw as students and workers rose against the government and succeeded in toppling it.
During the border war with neighbouring Mali in 1974, Sankara displayed feats of heroism. Consequently, his heroic performance earned him massive public attention. However, he renounced the war years later, citing that it was unjust and useless.
There were series of labour union strikes in Burkina Faso in the early 1980s. The unrest was worsened by military coups. Sankara had displayed impressive feats of military achievements coupled with the fact that his leadership was characterised by charisma and fervor; due to this, he became a popular choice for many political appointments. Despite this trait of his, successive military governments had a problem with his personal and political integrity. He was a thoroughly uncompromising man.
In January 1983, Sankara was selected as the prime minister of the newly formed Council for the Salvation of the People (Conseil de Salut du Peuple; CSP), which was headed by Jean-Baptiste Ouédraogo. This post provided him with a gateway into international politics and an opportunity to meet with leaders of the nonaligned movement, including Fidel Castro (Cuba), Samora Machel (Mozambique), and Maurice Bishop (Grenada).
It has however been discovered that Sankara's anti-imperialist stance and grassroots popularity increasingly put him at odds with conservative elements within the CSP, including President Ouédraogo. As a consequence, Sankara was removed as prime minister in May and arrested. On August 4, 1983, Blaise Compaoré, Sankara's close friend and fellow army colleague, together with other friends freed Sankara from prison, overthrew the Ouédraogo regime, and formed the National Council of the Revolution (Conseil National de la Révolution) with Sankara as its President.
Sankara declared the objectives of the "democratic and popular revolution" to be primarily concerned with the tasks of eradicating corruption, fighting environmental degradation, empowering women, and increasing access to education and health care, with the larger goal of liquidating imperial domination.
During Sankara's regime, through his several aggressive programmes, infant mortality was greatly controlled, the literacy rate in the country also improved tremendously as access to education was improved. The literacy rate at the time he came into power was 13%, but within years, that number surged to 73%. Women also benefited from his leadership politically as there was an increased number of women holding governmental posts.
Within the space of a year, Sankara spearheaded a development plan that resulted in the building of 250 reservoirs and the drilling of 3000 wells. In the first year of his presidency alone 10 million trees were planted in an effort to combat desertification.
Sankara did not see government as an avenue to amass wealth for himself. He did not live a lavish life at the detriment of the poor masses. He was indeed a friend of the poor. Anti-corruption principles were at the forefront of his government's policies. He even reduced the salary of government workers. His personal salary was cut to $450 a month. These were things that won the people's support, but the middle class of the country who were more powerful became his enemies.
He lived such an outstandingly frugal life that at the time of his death, his most valuable possessions were his car, four bikes, three guitars, a fridge and a broken freezer.
On the first anniversary of the coup that had brought him to power, he changed the country's name from Upper Volta to BurkinaFaso, which roughly translates as "land of upright people" in Mossi and Dyula, the country's two most widely spoken indigenous languages.
Sankara's social policies caused economic problems as opposition from traditional quarters began to stir up series of disputes throughout the country. His administration gradually lost popular support, and internal conflict within his government grew as well. On October 15, 1987, Sankara was assassinated in a coup led by Compaoré and two others.
In an effort to honour him, the University Ouaga II became renamed University Thomas Sankara on15th October 2020.
Headlines (Nigeria):
Read our other news items below...