Nigeria :: News
COVID-19: Chrisland University VC Babalola speaks on after-effect of AstraZeneca vaccine
Mar 31, 2021
Source: CEOAfrica News: Reported by- Prince Lawrence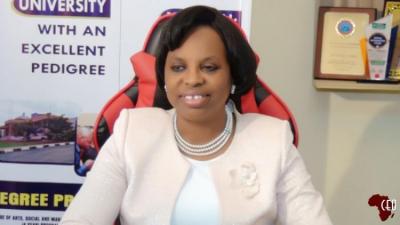 The Vice Chancellor of Chrisland University, Prof. Chinedum Peace Babalola, spoke on the after-effect of taking the AstraZeneca vaccine.
Prof. Babalola, in a chat with CEOAFRICA, disclosed that it is normal for the body to react after being vaccinated.
Recall that CEOAFRICA reported that the Vice-Chancellor and the members of staff of Chrisland University took the Oxford/AstraZeneca vaccine on Tuesday March 23, 2021.
The Professor of Pharmaceutical chemistry and Pharmacokinetics, while speaking on how she felt after the vaccination, revealed that she felt pain on some parts of her body, but she later took pain relieving drugs.
Babalola further explained that when someone takes vaccine, it is expected and normal to have reactions.
"Yes, I also expected reactions. Normally, when children take vaccine there will be reactions. Their body gets warm and they're given drugs to relieve them from the pain. So it is the same feeling.
"When I took the vaccine, I felt pains in my hands, and took pain relieving drugs. There is nothing wrong with it.
"It is a flu and we are still studying it," she stressed.
The erudite Professor therefore urged those who are yet to take the vaccine to consider doing so and cast out the fear that is hindering them from taking the vaccine.
She noted that the AstraZeneca vaccine is effective in immunizing the body against the coronavirus.
The AU laureate further expressed that between eight to twelve months, a booster dose is expected to be taken after the first jab of the vaccine.
A booster dose is an extra administration of a vaccine after an earlier dose to enhance the effectiveness of the vaccine and the immunization of the body.   
"We have taken it, and we'll still take a booster dose.
"We are taking the AstraZeneca, that's what we have in Nigeria. Between eight to twelve months, there will be another booster dose," she stated.
Headlines (Nigeria):
Read our other news items below...