Nigeria   ::   News
2023: Seun Kuti mobilising Youths, activists for Political Leadership through MOP
Feb 27, 2021
By: Cletus Ilobanafor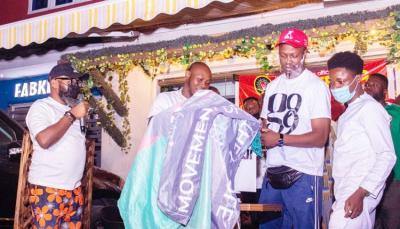 Seun Kuti (second left) and some of the activists at the Mobilization activities
The Afrobeat Star, Seun An­ikulapo Kuti, the scion of the legendary Ransome-Ku­ti family, has intensified the mobilisation of NIgerian activists and youths for po­litical leadership under a mass-oriented political par­ty, Movement of the People (MOP).
To this end, Seun, one of the sons of the late Afrobeat King, Fela Anikulapo-Kuti, last Saturday in Lagos, host­ed the launch of POWER MIC CHALLENGE, an inno­vation he conceptualised to bridge the communication gap between two groups of Nigerian youths, the pro­fessional youths, identified as 'Youth 1', and the artisan group, termed 'Youth 2'.
The event, which at­tracted several media prac­titioners, especially those covering entertainment and politics, as well as a cross section of youths and activists, was powered by the Naija Resistance Move­ment (NRM), made up of thousands of activists under his leadership and Movement of The People (MOP), a fledgling political organisation seeking recog­nition as one of the nation's political parties.
Speaking at the occasion, which also attracted several of his colleagues from the entertainment (movie and music) industry, human rights activists and student unionists, among others, Seun Kuti posited that he created POWER MIC with a view to achieve dialogue, solidarity and action from the people.
According to him, his outfit would empower the oppressed Nigerians with a community grassroots voice with which they could consistently speak truth to power, by way of them say­ing what they need to say clearly, as regards how they are being led. And by this, create solidarity among the oppressed.
The POWER MIC, he add­ed, would take the message of liberation to the people and get them to gain the po­litical education they need to engage positively as well as organise themselves to become politically aware and active citizens that participates in governance processes within the con­fines of the law as much as possible.
Seun said: "If you are asking to know how we in­tend to achieve this, the an­swer is very simple. We are prepared to go to the people, knowing full well that the oppressor does this only for election purposes. We will go to all the communities and in a few months, open up the campaign to the gen­erality of Nigerian people through THEPOWER MIC CHALLENGE."
He added: "If you cast your mind back to the #ENDSARS 1&2, you will get to know why POWER MIC is the Netflix of pro­tests in Nigeria."
  Headlines (Nigeria):
Read our other news items below...