Nigeria   ::   News
"If Makinde continues to disrespect me, I will work against him" –Fayose threatens
Feb 25, 2021
Source: CEOAfrica News: Reported by- Prince Lawrence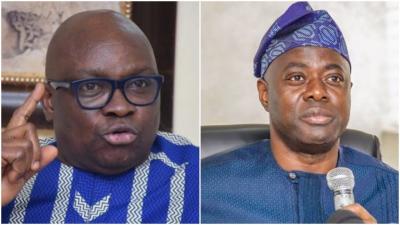 Former Governor of Ekiti State, Ayodele Fayose, has threatened to work against the Governor of Oyo State, Engr. Seyi Makinde, if he (Makinde) continues to disrespect him.
The former governor of Ekiti state insisted that Governor Makinde must recognise him (Fayose) as his political father.
Fayose on Wednesday said he was among the Peoples Democratic Party (PDP) chieftains who worked in 2019 to ensure Makinde emerged the winner of the governorship election in Oyo state.
He boasted that "When Makinde was to contest, I was the one that presented the flag to him and a red pen. It is a higher authority that hangs your rank, a senior officer hangs the rank of a junior officer, which means he saw me as a leader at the time I was giving him the flag at Ogbomosho.
"It was Governor (Rasheed) Ladoja that was holding the structure that we gave to him (Makinde); I was the only sitting governor at the time. I had powers to influence it negatively. Are you telling me the man that gave you red pen has suddenly become your enemy? If he has anything against me, let him say it. Governor Makinde should take it easy.
"When they were contesting election in Oyo State, I was the one giving him information about the senatorial election. I never slept all night. In his own election, I was with him in Ibadan. If he disrespects us, we will tell him that we have capacity to. I am not his mate."
He said if Governor Makinde has anything against him, he should speak.
"He (Makinde) is the one to tell you if there is any bone of contention. In this West, I am his brother, I am his father," Fayose stated.
He added that "If he wants peace, he should stop that nonsense, I say it again nonsense. I mean every word I am saying. I'm a responsible Nigerian. If we were born in the same family, I will be older than Governor Makinde by 10 years even if I was not governor. I should be respected. I am a respectable figure in this country, forget any other story any other politician may say.
"Even when I was supporting Governor (Kayode) Fayemi in Ekiti, I told them I can never join APC in my life. It was Governor (Segun) Oni that disrespected me and I worked for Governor Fayemi. If Governor Makinde continues to disrespect me like this, I will work against him. I don't operate underneath; you know where you are with me. If Governor Makinde wants to hear the story of how he became governor, I will tell him."
The ex-governor further disclosed that he has no plan to join the APC or any other political party.
"We need certain level of honour, we need certain level of principles to be able to lead in this country," he said.
  Headlines (Nigeria):
Read our other news items below...