Nigeria   ::   News
WTO: CEOAFRICA MD congratulates Dr Ngozi Okonjo-Iweala as she takes over WTO leadership
Feb 16, 2021
By: Abara Bleesing Oluchi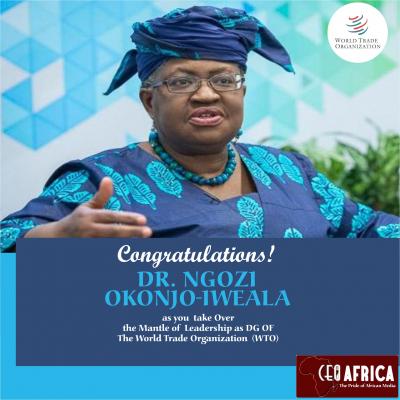 The Managing Director of CEOAFRICA, Prince Cletus S. Ilobanafor congratulates the newly appointed Director General of the World Trade Organisation (WTO), Dr Ngozi Okonjo-Iweala.
Prince Ilobanafor in a statement described the appointment as historic.
"Dr Ngozi Okonjo-Iweala, your appointment is historic. It is an apportunity to show the world the leadership qualities of an African woman . I congratulate you on this success as the first female and African to emerge as the DG of the World Trade Organisation (WTO)," he stated.
Recall that the former Minister of Finance on Monday made history for being the first woman and African to lead the organization.
What you need to know about Okonjo-Iweala
Dr. Ngozi Okonjo-Iweala was born on June 13, 1954 in Delta State, Nigeria, to the family of the late Obi of Ogwashi-Ukwu, Prof. Chukwuka Okonjo.
She attained secondary school education at Queens School, Enugu, St Anne's School, Molete, Ibadan and the International School, Ibadan. Thereafter, she travelled to the US in 1973 to study Economics at Havard University and later earned a doctorate degree in regional and development economics from the Massachusetts Institute of Technology (MIT) where her thesis titled; 'Credit Policy, Rural Finance Markets and Nigeria's Agricultural Development.'
The 66-year-old economist spent 25 years at the World Bank and rose to the post of Managing Director by dint of hard work where she oversaw an $81 billion operational portfolio in Africa, Europe, Central Asia and South Asia. She spearheaded many World Bank initiatives to assist low income countries during the 2008 – 2009 food crises. In 2010, she was the chairperson a World Bank initiative to raise $49.3 billion in grants and low interest credit for the poorest countries in the world.
After serving in the World Bank, she returned to Nigeria in 2003 to serve as the first female Finance Minister under former President Olusegun Obasanjo and her negotiating skills helped the government seal a deal to cancel Nigeria's debt worth $18 billion by the Paris Club of creditor nations in 2005. She served as Finance Minister from 2003 to 2006 and Minister of Foreign Affairs in 2006 and was re-appointed by former President Goodluck Jonathan where she served from 2011 to 2015. In 2005, Euro Money named her global finance minister of the year
She thereafter got appointed as the chairperson on the board of Global Alliance for Vaccines and Immunisation (GAVI), an organisation that helps to distribute vaccines globally. After her term ended in December last year, she stepped down and was appointed as a special envoy for the World Health Organisation on COVID-19. In addition to the position she held at GAVI, she is a board member of Standard Chattered Bank, Twitter and the African Risk Capacity
She became an American citizen in 2019 after working in the US for many years and is married with four kids to Dr. Ikemba Iweala, a neurosurgeon.
Okonko-Iweala's new job is to facilitate meetings, set agendas and most importantly, to mediate in trade disputes. She, however, said she plans to play a stronger role than Director Generals in the past and to reform the organisation and bring it back to its feet.
  Headlines (Nigeria):
Read our other news items below...