Nigeria   ::   News
[BREAKING] WTO: US president Biden asked to endorse Okonjo-Iweala as Korean candidate withdraws
Feb 05, 2021
By: Abara Bleesing Oluchi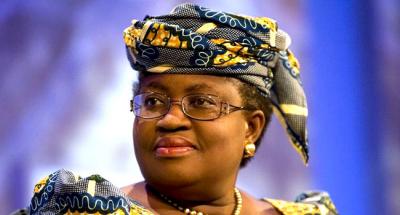 The second contender in the race for who will be the next director-general of the World Trade Organisation head, Yoo Myung-hee, South Korean Trade Minister, has withdrawn, leaving former Nigerian Finance Minister Ngozi Okonjo-Iweala as the only remaining candidate for the job, Bloomberg reports Friday.
Yoo was said made the decision after discussions with the United States and other major nations, and took various issues into account "comprehensively" including the need to revitalize the multilateral organization, according to a statement from Korea's trade ministry on Friday.
The withdrawal comes after dozens of former US government officials urged President Joe Biden to endorse Okonjo-Iweala after the Trump administration blocked her selection. The opposition halted the selection process because WTO decisions are made on the basis of a consensus of its members.
The 66-year-old former minister had earlier said she remained positive of becoming the first African and first female director-general in the 25-year history of the WTO despite 'hiccups'.
Okonjo-Iweala serves on Twitter's board of directors, as chair of the GAVI vaccine alliance as well as a special envoy for the World Health Yoo Myung-hee Organisation's COVID-19 fight.
  Headlines (Nigeria):
Read our other news items below...