Nigeria :: News
UPDATE: FOBTOB NEC meeting ends a huge success
Oct 15, 2020
Source: CEOAFRICA News: Reported by- Blessing Osajie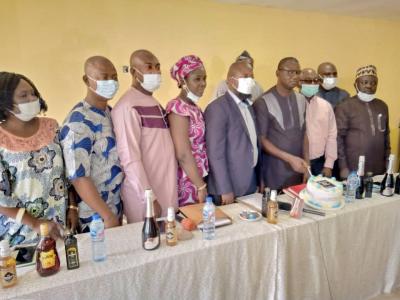 EKITI STATE
The meeting of the National Executive Council of the Food, Beverage and Tobacco Senior Staff Association (FOBTOB) in Ekiti State, has ended a huge success.
Members of the council were delighted at the proceedings which stayed focused on key issues that affect every member.
At the meeting, they paid glowing tributes to the leadership of Comrade Quadri Olaleye for the transparency of his administration and success of the construction of the new student hostel soon to be commissioned tomorrow the 16th of October, 2020.
Also, they used the opportunity to make arrangements towards the transition of power from the present executives to the soon to be new executives.
CEOAfrica earlier reported that the meeting which started with the celebration of the golden jubilee birthday of the Acting General Secretary, Comrade Peter Iyeye, was chaired by the National Chairman of the association, Comrade Quadri Olaleye.
Members who attended the meeting include; Abubakar Ahmed, Ade Bunmi, Adebayo A, Adesaye Bunmi, Amadu Alex, Anele Zuru, Christopher I, Idogen Emmanuel, Iyeye Peter, Laura Yusuf, Makinde Solomon, Nasim Bichi and Patrick Sule.
Headlines (Nigeria):
Read our other news items below...