Nigeria :: News
​​​​​​​African only candidate, ACPN Chairman, Dr. Adekola calls for support to become CPS Exco member
Sep 14, 2020
Source: CEOAFRICA NEWS: Reported by Blessing Sunday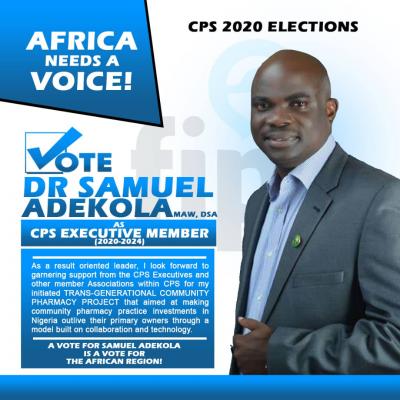 Dr. Adekola
NIGERIA
The incumbent National Chairman of the Association of Community Pharmacists of Nigeria (ACPN) Dr. Samuel Oluwaromipin Adekola, MAW, DSA ACPN, Nigeria is canvassing for the support of the delegates including the current Compendium of Pharmaceuticals and Specialties (CPS) Exco members under the leadership of president Lars-Ake Soderlund to serve as an Exco member of CPS for the next four years following his nomination by his National Association.
Dr. Adekola who is currently an International Pharmaceutical Federation (FIP) Council member representing the Association of Community Pharmacists of Nigeria is the only African nominated to fit into the CPS Exco membership position. He is a strong believer of the one FIP philosophy, who is highly committed to the doctrine of "TSA" TRUST, SOLIDARITY & ACTION, the focal message of the FIP president, Dominic Jordan advisory to all FIP members.
In his vision statement for Community Pharmacy Section of FIP as a prospective Executive Committee Member, Dr. Adekola said he is focused on driving an agenda for solidarity and collaboration among individual members and member organizations of the CPS/FIP.
"I hope to drive along with other members of the CPS ExCo the actualisation of the FIP vision for the maximization of community pharmacists potentials in primary health care provision towards the achievement of universal health coverage UHC particular in the developing Countries such Nigeria my dear Country.
"I shall promote CPS and FIP visions and activities in my Country and within the Africa sub region to further increase participations of members and prospective members in these very important professional organisations," he said.
The result-oriented leader said he looks forward to garner supports from the CPS Executives and other member Associations within CPS for his initiated TRANS-GENERATIONAL COMMUNITY PHARMACY PROJECT aimed at making community pharmacy practice investments in Nigeria to outlive their primary owners through a model built on collaboration and technology.
He however pledged that with the continuous support of the ACPN, he will scale up financial contributions from Nigeria to both FIP and CPS through increase mobilisation of members for FIP annual congress attendance.
Dr. Adekola MAW, DSA is a passionate Community Pharmacist from Supare Akoko in Ondo State, Nigeria with local and international recognition and also the founder and owner of 'His Grace KSP Pharma Group,' a reputable community pharmacy which currently has five branches.
He has earned seventeen objective awards across communities of University students, Chambers of Commerce, FIP Conferences, Faculty of Pharmacy, Pharmaceutical Companies, PSN, ACPN, the media, his Alma Mata and other professional bodies over the years.
He has both wide and varied experiences in Pharmacy practice as he has worked in the hospital, sales and marketing (distribution), production, besides Community practice which has built in him the unparalleled feel and understanding of the various aspects of the profession and their interdependence.
To improve his delivery of Pharmaceutical care to patients, he has harnessed personal skill development in the area of Immunization, Emergency Management and Opioid Over-dosage, Response and Naloxone training.
He has been an active participant of PSN or ACPN conferences since graduation and has consistently attended FIP conference from 2009 till date. He has also assumed membership of some foreign professional pharmaceutical bodies such as; the African Pharmaceutical Forum FIP/APF, Commonwealth Pharmaceutical Association (CPA), Nigerian Association of Pharmacists and Pharmaceutical Scientists in Americas (NAPPSA), Alliance for Prudent Use of Antibiotics (APUA).
Dr. Adekola has led in various capacities and in different spheres of society and levels, from student bodies to professional, business, political, union, NGOs and council as he has been the State Chairman of Nigerian Aassociation of Industrial Pharmacists (NAIP), State Chairman Pharmaceutical Society of Nigeria (PSN), Chairman Association of Professional Bodies of Nigeria APBN in Ondo State at various times, a Council member of PSN for 6 years, and is currently the National Chairman of ACPN after serving the same Association as National Vice-Chairman for a period of 3years.
In February 2020, Dr. Adekola was appointed as an observer by the FIP/CPS Exco to represent the African Continent and just two months ago, he was also appointed by the Ondo State Government, Nigeria as a member of the Board of the State Public Procurement Bureau.
The Community Pharmacist has made Nigeria proud by being the only Nigerian Pharmacist that contributed to the Vision 2020 of Community Pharmacy Section of FIP, which was officially launched at the 2014 FIP Congress in Thailand and he was also one of the 100 Community Pharmacists / Pharmacies of Excellence in Pharmaceutical Care showcased in video at the FIP Congress in Amsterdam 2012 in the 'I AM A PHARMACIST' Project of CPS/FIP hosted by Mr. Warren Meek a mentor and a very passionate community pharmacist from Halifax Nova Scotia, Canada.
Headlines (Nigeria):
Read our other news items below...