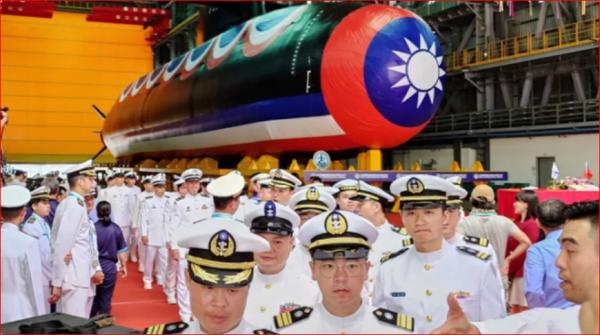 Taiwan launches first domestically built submarine
From: Agency Report
Thu, 28 Sep 2023 || Taiwan,
Taiwan has launched its first domestically developed submarine that it hopes will enhance deterrence against the Chinese military.
President Tsai Ing-wen named the vessel "Hai Kun" at a launch ceremony in the southern city of Kaohsiung on Thursday.
Stating that construction of the submarine began in 2020, the president noted that building submarines domestically was an important combat force to protect Taiwan's borders.
"Today will be remembered in the history, we did it,'' Tsai said.
She added that it was once regarded as an impossible task for Taiwan to build its own submarines.
"Building submarines domestically is not only a goal but also a concrete practice to firmly protect our country,'' Tsai said.
Tsai said that, in 2025, the new submarine will join two submarines purchased from the Netherlands in the 1980s.
"Taiwan then will have three submarines with full combat capabilities in service,'' she said.
Sandra Oudkirk, the director of the American Institute in Taiwan, which served as Washington's de facto embassy, attended the ceremony.
Trade representatives from South Korea and Japan, who are based in Taiwan, were also there.
The new submarine, named Hai Kun in Mandarin, or Narwhal, would undergo a harbour acceptance test from Sunday, before testing at sea.
"It is due to be delivered to the Navy by the end of 2024.''
Taiwan's Naval Command said Thursday that building submarines domestically was an important policy for Taiwan's national defence independence.
Through cooperation with shipbuilder CSBC Corporation, the navy demonstrates a resilience and determination to defend Taiwan to the world, the command said.
According to Huang Shu-kuang, convener of Taiwan's Indigenous Defence Submarine (IDS) programme, Taiwan's goal is to let the first new domestically built submarine join the fleet in 2025.
Whilt the second one in 2027, to boost combat capability, state-run Central News Agency reported.
Huang estimated that a fleet of 10 submarines operated by Taiwan would make it harder for the Chinese navy to extend its power to the Pacific.
According to Taiwan's national defence report released early this month, the navy of China's People's Liberation Army (PLA) aims to gain control over strategic positions in the Pacific by 2035.
Wu Qian, spokesman for the Chinese Defence Ministry, said on Thursday that preventing the PLA from entering the Pacific is nonsense.
Taiwan faces a growing military threat from China.
Taiwan has had an independent government since 1949, but China considers the democratic island part of its territory.
A programme for the development of eight submarines was launched in December 2016. In May 2019, Tsai hosted a ground-breaking ceremony for the island's first shipyard for self-built submarines.
CSBC Corporation chairman Cheng Wen-lon said at the ceremony that more than 1,000 people were involved in building the new submarine.
The prototype, which is 70 metres long and 8 metres wide, is equipped with a combat system by Lockheed Martin Corp, U.S.-made MK-48 heavyweight torpedoes, and UGM-84 Harpoon missiles.
In Beijing, Chinese Foreign Ministry spokeswoman Mao Ning on Thursday accused Tsai's ruling party in Taiwan of undermining peace in the region.
She said Taiwanese citizens' hard-earned money was being squandered on the purchase of weapons.
Back to News