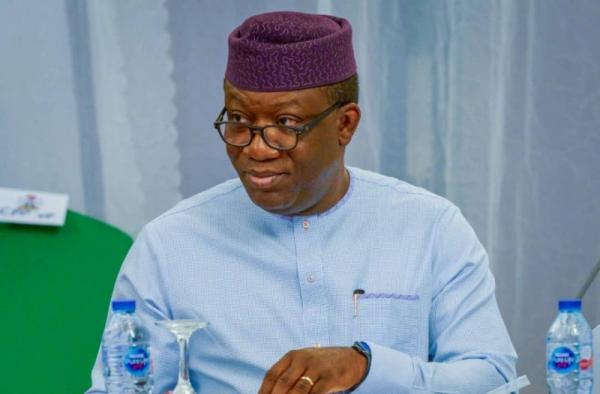 Our protest against Jonathan's subsidy removal in 2012 mere politics – Former Ekiti gov, Kayode Fayemi says
By: News Editor
Wed, 6 Sep 2023 || Nigeria,
The immediate past governor of Ekiti State, Kayode Fayemi, says the protest launched against the fuel subsidy removal during the administration of former President Goodluck Jonathan in 2012 was mere politics.
Fayemi stated this while delivering his keynote address at a national dialogue organized to celebrate the 60th birthday of the founding National Secretary of Alliance for Democracy (AD), Professor Udenta Udenta, in Abuja, on Tuesday, September 5. The event was also graced by Jonathan; former Minister of Education, Oby Ezekwesili; and former Minister of Aviation, Osita Chidoka, among others.
Recall that on January 1, 2012, President Goodluck Jonathan announced the removal of fuel subsidy, therefore, adjusting the pump price of petrol from N65 per litre to N141 in a move that sparked mass protests, known as 'Occupy Nigeria' across major cities of the country. The price was later adjusted to N97 after more than a week of protests. It was further reduced to N87 in 2015. The former President faced serious backlash from the adjustment in fuel price, especially from leaders of the defunct Action Congress of Nigeria (ACN), who are now mostly in the All Progressives Congress (APC).
While speaking at the birthday ceremony today, Fayemi said the challenges confronting the nation today cannot be solved unless the country embraces proportional representation where the spoils of elections are shared between contestants. He went on to say that the last time Nigeria experienced economic development was during Jonathan's administration.
"Today, I read former president Olusegun Obasanjo's interview on the cable saying our liberal democracy is not working and we need to revisit it. And I agree with him, we must move from political alternatives, I think we are almost on a dead end of that.
What we need is alternative politics and my own notion of alternative politics is that you can't have 35 per cent of the vote and take 100 per cent. It won't work. We must look at proportional representation so that the party that is said to have won 21 per cent of the vote will have 21 per cent of the government. Adversaries politics bring division and enmity.
All political parties in the country agreed and they even put in their manifesto that subsidy must be removed. We all said subsidy must be removed. But we in ACN at the time in 2012, we know the truth sir but it is all politics. That is why we must ensure that everybody is a crucial stakeholder by stopping all these.
Let the manifesto of PDP, APC, Labour Party be put on the table and select all those who will pilot the programme from all parties." he said
Back to News