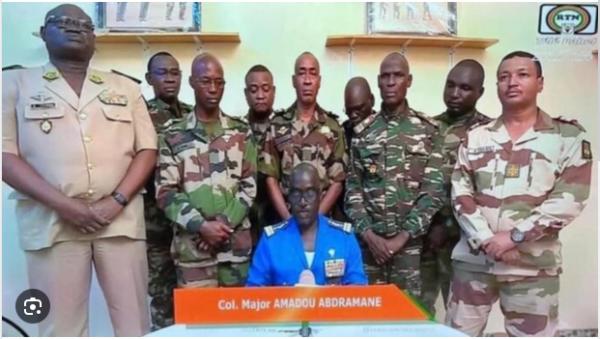 Niger reopens borders with five countries, excludes ECOWAS members
By: Abara Blessing Oluchi
Wed, 2 Aug 2023 || Nigeria,
The Niger Republic's new military government has reopened the country's land borders and airspace — one week after the ouster of President Mohamed Bazoum.
In an announcement on Tuesday night, the military junta said the borders were opened to Mali, Burkina Faso, Algeria, Libya, and Chad.
The junta also appointed new governors for the country's eight regions.
While Mali and Burkina Faso are members of the Economic Community of West African States (ECOWAS), both nations, also under military rule, had taken sides with the coup leaders in Niger.
The military leaders in Niger warned ECOWAS against any further interventions that would "jeopardise the spirit of Pan-Africanism".
They added that any military intervention against the country would force them to also adopt "self-defence measures" in support of the "brotherly" armed forces and the people of Niger.
Mali and Burkina Faso, who had long been suspended from ECOWAS after earlier military coups, also threatened to withdraw from the regional bloc.
Tensions between Niger and other ECOWAS members remain as the country's borders with Benin and Nigeria remain closed.
President Bola Tinubu, the ECOWAS chairperson, strongly condemned the coup in Niger, vowing to do everything possible to ensure peace and return of democracy to the unstable West African country and the region at large.
President Patrice Talon of Benin was deployed by the regional bloc to Niger to assess the situation.
On Sunday ECOWAS issued an ultimatum to the coup leaders, demanding that the democratically elected President Bazoum be released and reinstated.
The regional body also warned of strict measures, including the use of force, if its demands are not met within a week.
The organisation began a three-day meeting in Nigeria on Wednesday to discuss the way forward.
Meanwhile, foreign countries including France and Italy have begun evacuating their citizens and other nationals from Niger.
Other countries, including the United States and Germany, and global organisations such as the European Union (EU) have also suspended financial support to the country in condemnation of the coup.
However, the junta has ignored numerous calls and sanctions aimed at swaying the military leaders to reinstate Bazoum.
Back to News