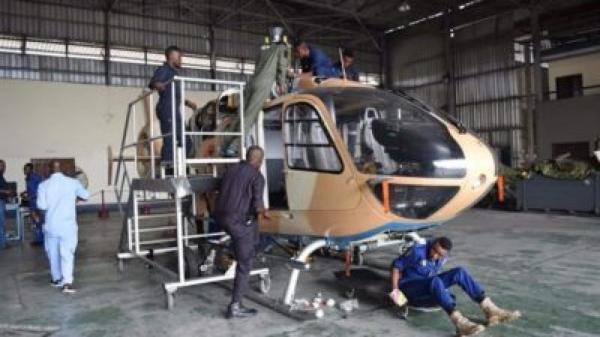 First made-in-Nigeria helicopter to debut soon
By: Cletus Sunday Ilobanafor
Sat, 22 Jul 2023 || Nigeria,
The plan by the Federal Govern­ment for the take-off of the first Made-In-Nigeria helicopter has received a boost with the collabo­ration between the National Agen­cy for Science and Engineering (NASENI) and the Air Force Insti­tute of Technology (AFIT), Kadu­na, Kaduna State for the smooth take-off of the permanent site of Aeronautics and Air Vehicle Development Institute (AAVDI).
AAVDI is an Institute under NASENI.
A statement by Mr. Olusegun Ayeoyenikan, the Director Infor­mation & Protocol, NASENI, said that Dr. Bashir Gwandu, the Ex­ecutive Vice Chairman, NASENI canvassed for the strong relation­ship between the two government agencies.
The statement hinted that Gwandu stated this recently when Air Vice Marshal (AVM) S.L. Rabe, the new Commandant of AFIT, paid him a courtesy visit at NASENI headquarters in Abuja.
Rabe, who expressed delight with the visit, hoped that this would lead to improved relation­ship with NASENI to develop AADVI and also fast track the on-going work on made-in-Nige­ria helicopter.
He promised to work with NASENI and asked that AFIT staff should be part of training for unskilled talents such as welding and others.
"I am of the opinion that the AFIT staff should be part of the NASENI training to gain knowl­edge from the training," he said.
In his response, Gwandu as­sured that the organisation would work with the Air Force and the military establishment.
He said the main reason for having the helicopter and the AAVDI was for Nigeria to be self-reliant in aviation technology, noting that there would be manu­facturing of components for the helicopter and other aircrafts that NASENI could produce.
"We can train people to learn to produce the components. Like I said, we have been looking at different components of aircraft in particular and how we can pen­etrate that industry.
"We produce a lot of titanium in this country, as we know the body of aircraft in particular use composite materials, which do not work with aluminum as we all know because of corrosion. One of the key projects I am working on is getting a team to work on titanium.
"I have companies that I am talking to courtesy of your col­league at NASENI. We will work with what we have to produce some of the parts. We have Insti­tutes like HEDI in Kano that pro­duce hydraulics that are needed in aviation. We are trying to form a team that we can train in different areas of aerospace such as satel­lites, down to aircraft aviation."
Gwandu informed that one of the key projects the institute dis­cussed was on the Maintenance, Repair and Overhaul (MRO) facility in Abuja, stressing that rather than take all the aircraft out for maintenance abroad, the institute could maintain them in the country through its facility.
Back to News