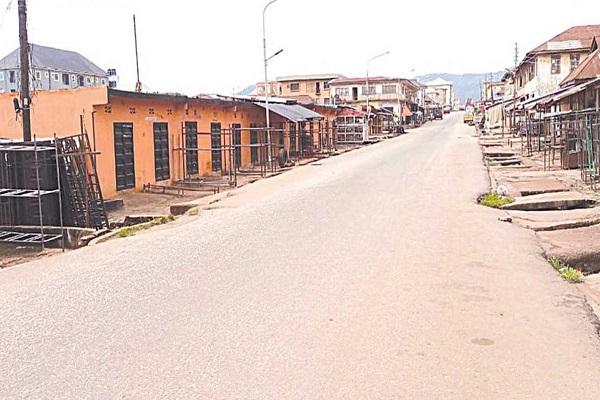 Sit-At-Home enforcers are enemies of Igboland - Catholic Priest blows hot
By: Cletus Sunday Ilobanafor
Sun, 9 Jul 2023 || Nigeria,
Rev Fr Dr Magnus Ebere, (aka) Fr E-Dey Work, the Spiritual Director of the Canaanland Adoration Counselling Centre, Onicha, Ezinihitte Mbaise Local Government Area of Imo State, has condemned incessant sit-at-home directive by people who claim to be fighting for Nnamdi Kanu's release, The Nation reports.
He described them as enemies of both Nnamdi Kanu and Ndigbo pointing out that the sit- at -home does not in any way affect or perturb those who are holding Nnamdi Kanu hostage.
The cleric who said this at the Adoration Counselling Centre on Saturday, noted that the so called sit-at-home was exactly what those holding Nnamdi Kanu in captivity wanted so that the Southeast will continue to boil and its people will continue to go down and have no peace.
He said that the action is not doing any good for the release of "our son Mazi Nnamdi Kanu as it will only lead to the killing of our brothers and sisters for no justification."
He maintained that the sit-at- home was giving more impetus to those who are keeping him in their custody not to release him as his freedom will lead to peace in Igboland.
Fr. E-Dey Work observed that Nnamdi Kanu's stay in their custody will continue to cause mayhem and bloodshed in Igboland which is what the enemies of Ndigbo want.
"They have no stake in Igboland. They are not in Igboland.They have nothing to regret. They only rejoice that we are killing ourselves," he said.
Fr Ebere E-Dey Work remarked that the sit at home has tremendously worsened the socio – economic situation and development in the Southeast to the point that most of the business men and women in the zone are now trooping to other neighbouring zones and states to do their businesses while the ones in the Southeast states are being stifled and destroyed.
He wanted to know who the purveyors of sit at home will rule if they end up killing the people.
He stated that innocent lives are not only being wasted, but hunger and hardship have taken over the zone.
He wondered how any sane man or group of people will in their sensibilities declare seven days sit at home for hunger to kill the people and at the same time pick up guns and start shooting indiscriminately.
Fr Ebere called on those responsible for the sit at home directive to put a stop to it and allow peace to reign in the Southeast and also called for continuous prayer for the safety and release of Nnamdi Kanu believing that God will surely intervene.
Back to News