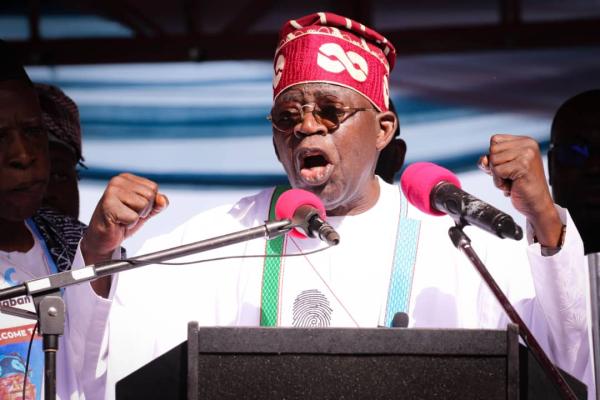 Breaking: Tinubu orders DSS to immediately vacate EFCC's office
By: News Editor
Wed, 31 May 2023 || Nigeria,
President Bola Tinubu has ordered the Department of State Security Service (DSS) to immediately vacate the office of the Economic and Financial Crimes Commission (EFCC) in Ikoyi, Lagos.
Tinubu gave the directive when reports that DSS officials stormed the EFCC office located on Awolowo Road, Ikoyi, Lagos on Tuesday, preventing officials of the anti-graft agency from accessing their work place, was brought to his attention.
The President, in a statement from the State House Presidential Villa, issued by Tunde Rahman, said if there were issues between the two important agencies of government, they would be resolved amicably.
Operatives of the DSS had laid siege on the property of the EFCC located at No. 15 Awolowo Road, Ikoyi on Tuesday. They stationed an Armoured Personnel Carrier at the entrance of the building and prevented EFCC officials from gaining entrance.
The DSS, in a statement by its spokesman, Peter Afunanya, said its attention had been drawn to some media reports that it barricaded the EFCC from entering its Lagos office.
"It is not correct that the DSS barricaded EFCC from entering its office. No. It is not true. The Service is only occupying its own facility where it is carrying out its official and statutory responsibility.
"By the way, there is no controversy over No. 15A Awolowo Road as being insinuated by the Media. Did the EFCC tell you it is contesting the ownership of the building? I will be surprised if it is contesting the ownership. Awolowo Road was NSO headquarters. SSS/DSS started from there. It is common knowledge. It is a historical fact. Check it out.
"There is no rivalry between the Service and the EFCC over and about anything. Please do not create any imaginary one. They are great partners working for the good of the nation. Dismiss any falsehood of a fight," the statement said.
But the EFCC said they were denied access to the property.
A statement by EFCC reads: "By denying operatives access to their offices, the Commission's operations at its largest hub with over 500 personnel, hundreds of exhibits, and many suspects in detention have been disrupted.
"Cases scheduled for court hearing today have been aborted, while many suspects who had been invited for questioning are left unattended.
"Even more alarming is that suspects in detention are left without care with grave implications for their rights as inmates.
"All of these have wilder implications for the nation's fight against economic and financial crimes.
"The siege is inconsistent with the synergy expected of agencies working for the same government and nation, especially when there are ongoing discussions on the matter."
Back to News