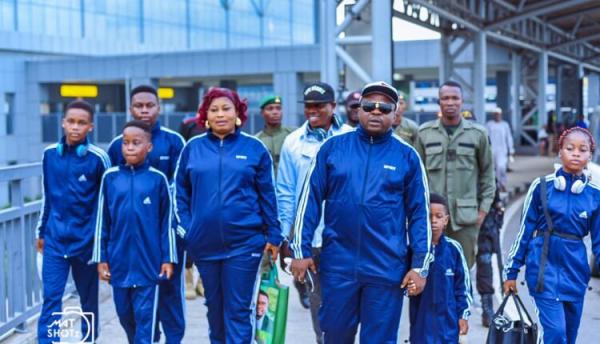 Ajadi, Family jet out to Tanzania on holiday, urges govt to make Nigeria tourist nation
By: Cletus Sunday Ilobanafor
Wed, 3 May 2023 || Nigeria,
The gubernatorial candidate of the New Nigeria People's Party (NNPP) in the last general elections in Ogun state, Ambassador Olufemi Ajadi Oguntoyinbo has jetted out to the East Africa country of Tanzania on a week holiday with his family.
Ajadi, while speaking to reporters at the airport on Wednesday used the opportunity to call on the government to diversify the nation' s economy.
He said a diversification of the economy, especially the improvement of hospitality and tourism would lead from to improved economic growth and development.
He illustrated with the abundance of natural tourist sites in the country, adding that improved infrastructure, security and better corporate image would lead to avalanche of tourists to the country on a consistent basis and massive foreign.
Ajadi therefore implored governments to show more commitment to improving the sector in order to tap inherent benefits.
The NNPP standard bearer in Ogun State is billed to visit some historic sites and monuments in Tanzania, like her vast wilderness areas, the plains of Serengeti National Park, a safari mecca populated by the "big five" (elephant, lion, leopard, buffalo, rhino), as well as the Kilimanjaro National Park, home to Africa's highest mountain.
While describing hospitality and tourism as a goldmine sector waiting to be tapped, Ajadi maintained that it was hightime the Nigerian government diversified the economy away from crude oil, "Government at all levels should explore all the potentials in hospitality and tourism for economic development and growth.
"It is a multifaceted and multidimensional activity. It is not just about fun, it is business and government should look at the business aspect. It makes more money than most other industries.
"Saudi Arabia has more oil than Nigeria, yet, it is investing massively on hospitality and tourism increasing its income net.
Also, China there is a place called Old City where their Emperor used to stay; it has now been turned around as a tourism resort yielding huge income.
"Dubai's economy depends on hospitality and there is no reason Nigeria cannot explore her potential..
"I want us to join hands to improve and invest into hospitality and tourism because oil is finishing. Nigeria is rich in tourism sector that can yield good return on investment.
"Every state should develop its hospitality, tourism and culture, rather than wait for stipend from federal government, they can actually make lots of money from those sectors.
"Every local government area you go in Nigeria, particularly in Ogun state, there is an investible hospitality and tourist potential, they are consumed at source.
"Those sites, like hills, historical structures and other natural habitat cannot be moved to other location, putting hospitality office into areas will boost economy of those areas and the local communities will always benefit if the potentials are well taped.
"It is the only viable alternative to oil and government should place more priority on hospitality, tourism and culture. Many countries which Nigeria is even more endowed than are earning immense benefits from hospitality and tourism. Nigeria is so endowed in that sector, looking at the cultural diversity and the natural environment.''
Back to News