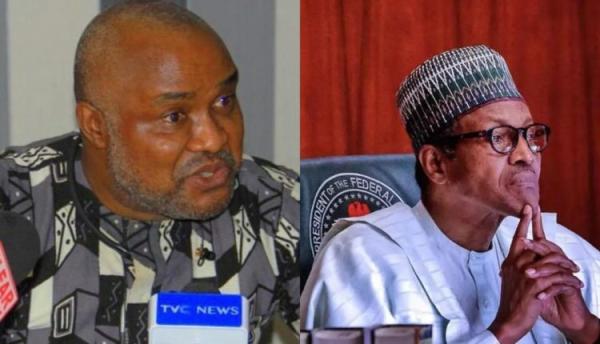 Terrorism: Buhari must face ICC – HURIWA
By: Cletus Sunday Ilobanafor
Sun, 23 Apr 2023 || Nigeria,
Civil rights advocacy group, Human Rights Writers Association of Nigeria, (HURIWA), on Sunday, said President Muhammadu Buhari must account for the killings of thousands of Nigerians by armed bandits and killer herdsmen under his watch in the last eight years.
HURIWA, in a statement by its National Coordinator, Comrade Emmanuel Onwubiko, said there is no forgiveness for incompetence, nepotism, and sheer complicity in terroristic acts against the Nigerian people since he assumed office on May 29, 2015.
The group said the outgoing President whose two-term of eight years ends on May 29, 2023, must account for the various human rights violations committed right under his watch for eight years.
Recall that a few days before the end of his tenure, during the Eid festivities, the President pleaded with all those he has hurt in the course of steering the affairs of state since he assumed office almost eight years ago to pardon him.
Buhari said, "There is no doubt I hurt some people and I wish you will pardon me. And those that think that I have hurt them so much, please pardon me."
However, HURIWA's Onwubiko said, "Buhari said he should be forgiven. He needs to render an account of how he ran the security services aground in eight years due to tribalism and religious bigotry by appointment of only Muslim Fulanis as Heads of all key security institutions including DSS, Police, Immigration, Customs, NIA and the Army.
"Between May 2015 and May 2022, over 55,000 Nigerians were killed by terrorists, bandits, and armed gangs under Buhari's watch. In 2021 alone, at least 115 people were killed by security forces in the South-East, according to Amnesty International. Hundreds of Igbo youths have been slain by security forces yearly since 2017 when Nnamdi Kanu's case started.
"Thousands of school children have been kidnapped and never rescued and terrorists are allowed to operate freely.
"There's no forgiveness for gross incompetence and destruction of vital institutions of government as was done in 8 years by Muhammadu Buhari. He needs to render accounts here in Nigeria or in the ICC.
"The killings by armed forces in the South East under his command and control must be accounted for and justice accorded to the relatives of the victims of the horrendous human rights violations."
Back to News