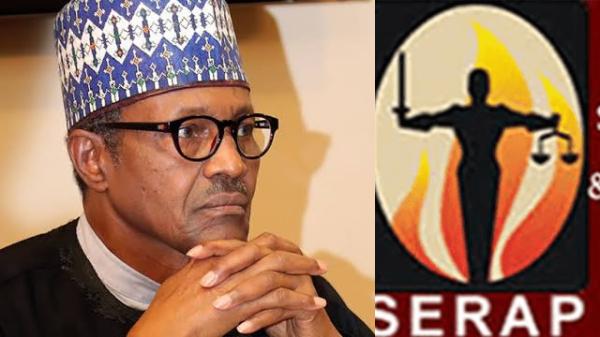 SERAP Tackles Buhari Over Threat To Broadcast Stations
By: Cletus Sunday Ilobanafor
Mon, 13 Mar 2023 || Nigeria,
"This kind of threat to journalism has furthermore serious implications on the public's right to information, in particular in the context of the general elections where the role of the media is of particu­lar importance.
"SERAP notes that section 39(1) of the Nigerian constitu­tion 1999 (as amended), Article 9 of the African Charter on Hu­man and Peoples' Rights and article 19 of the International Covenant on Civil and Politi­cal Rights, to which Nigeria is a state party protect everyone's right to maintain an opinion without interference and to seek, receive and impart infor­mation and ideas of all kinds, regardless of frontiers.
"Under the constitution and these human rights trea­ties, restrictions on the right to freedom of expression must be 'provided by law', and nec­essary for 'the rights or reputa­tions of others' or 'for the pro­tection of national security or of public order (order public), or of public health and morals'.
"Similarly, the Nigerian constitution and human rights treaties provide for the rights of individuals to be protected, inter alia, against unlawful or arbitrary interference, and provide that everyone has the right to the protection of the law against such interference.
"'Unlawful' means that no interference may take place except in cases envisaged by the law which in itself must comply with the requirements of human rights and the rule of law.
"Media coverage of the gen­eral elections and post-election matters, and media freedom are closely connected, as access to information is an essential requirement for the realization of the rights to freedom of ex­pression and participation.
"Similarly, phrases such as 'unguarded statements, divi­sive and dangerous comments', 'negative conversations' used by the NBC lack sufficient clarity and can be arbitrarily or discriminatorily applied and enforced.
"The 'last warning' and threat by the NBC would seem not to meet the strict re­quirements of the Nigerian constitution and the country's international human rights obligations. In particular, it is unclear the scope or object of what these wordings seek to prohibit.
"Under the constitutional and international requirement of legality, it is not enough that restrictions on freedom of ex­pression, access to information and media freedom are formal­ly stated in press releases and regulations.
"The NBC legislation and codes do not confer unfettered discretion for the restriction of freedom of expression on those charged with their implemen­tation.
"The requirement of legali­ty also serves to define the scope of legal discretion conferred on implementing authorities in order to provide adequate protection against arbitrary implementation.
"General prohibitions on the dissemination of infor­mation based on vague and ambiguous ideas, including 'unguarded statements, divi­sive and dangerous comments', 'negative conversations' are in­compatible with legal require­ments and should be immedi­ately withdrawn.
"According to our informa­tion, Mall. Balarabe Shehu Ilelah, Director-General of the National Broadcasting Com­mission (NBC) on Tuesday 7 March 2023 reportedly made the NBC's 'last warning to broadcast stations'. The NBC 'will not hesitate to shut down any station or revoke its licence once it is convinced that the ac­tivities of the station is capable of undermining the peaceful co-existence of the country.'"
Back to News